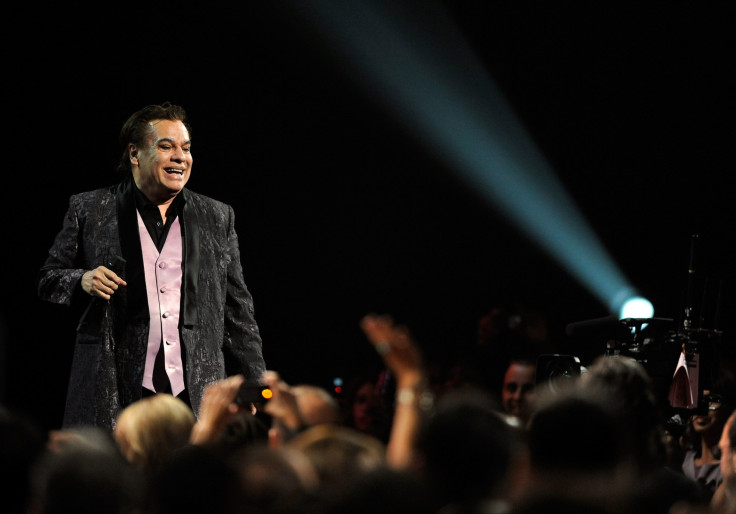 The world has lost a great singer. Alberto Aguilera Valadez , better known as Juan Gabriel has died at the age of 66. Reports from respected journalist Joaquín López-Dóriga confirm the death of the Mexican singer at his home in Santa Monica, California due to a heart attack. The legendary artist had just performed at a concert in Los Angeles at The Forum.
Juan Gabriel was born on January 7, 1950 on Cinco de Mayo street, now known as Juan Gabriel Street, in the small town of Parácuaro, Michoacán. He was the youngest of 10 siblings. At the age of 5, he was sent to boarding school where he met a teacher, Juan Contreras, who became his mentor and encouraged him to explore his musical talents. Juan Gabriel began writing songs and working on his voice. Eventually, he escaped boarding school when he was 15. Trying to pursue his dreams of making it in the music business, he traveled to different Mexican cities. Eventually, he began performing in local nightclubs and television using the stage name Adán Luna.
One of his first breakthroughs came when he finally got the opportunity to sing at the nightclub El Noa Noa, becoming a local sensation and gaining many fans within Ciudad Juárez. However, Juan Gabriel wasn't happy with just being a local performer, so he left for Mexico City where he began working part-time for RCA, writing the chorus of songs for many established artists. After being rejected by various recording companies, Juan Gabriel returned to Ciudad Juárez and signed his first performing contract at the Malibu nightclub, where he earned $20 a night.
At 19, Juan Gabriel returned to Mexico City and in 1971, at the age of 21, he signed a recording contract with RCA Records after officially changing his name to Juan Gabriel (Juan, in honor of Juan Contreras his teacher and mentor; and the surname of Gabriel, in honor of his own father). Over the next fifteen years, Juan Gabriel's fame grew as he recorded 15 albums, sold over 20 million records and made his acting debut in 1975 in the film Nobleza Ranchera. He wrote and recorded over 1000 songs in a variety of music genres.
Juan Gabriel established himself as Mexico's leading commercial singer-songwriter, penning in many diverse styles such as rancheras with mariachi, ballads, pop, rock, disco, with an incredible string of hits for himself and for leading Latin singers including Angélica María, Gualberto Castro, Aida Cuevas, Enriqueta Jiménez, Lucha Villa, Ana Gabriel, Lorenzo Antonio, and international stars José José, Luis Miguel and Rocío Dúrcal.
His work as an arranger, producer and songwriter throughout the subsequent decades brought him into contact with the leading Latin artists. In addition to recording numerous hits on his own, Juan Gabriel also produced albums for Dúrcal, Lucha Villa, Lola Beltrán and Paul Anka. In 1984, he released "Recuerdos, Vol. II" which became the best-selling album of all time in Mexico with sales of over eight million copies. He also scored what is considered by many of his fans to be his greatest hit, "Querida" ("My Dear") which stayed at the top of the hits charts for over a year and it still played 30 years later.
Latin music has sure lost one of its greatest. Rest in peace Juan Gabriel. You will be missed.
© 2023 Latin Times. All rights reserved. Do not reproduce without permission.