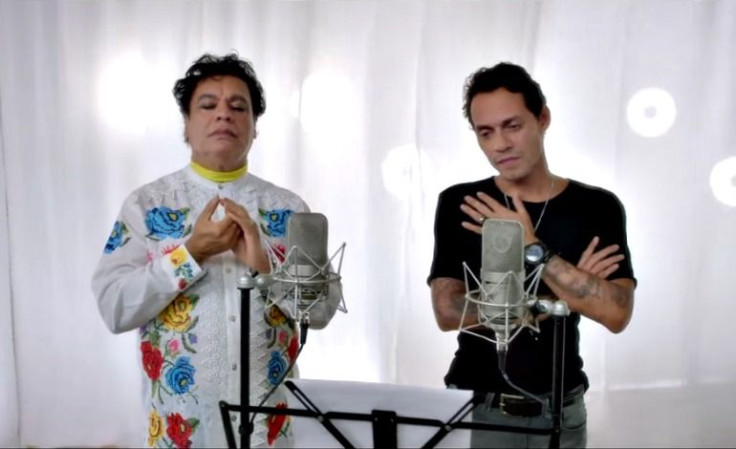 Juan Gabriel presents his most recent music video "Yo Te Recuerdo" featuring Marc Anthony. The single, which was released on December 2015, now counts with a nearly 4-minute long video featuring both El Divo de Juarez and the Puerto Rican salsa singer. With Anthony jumping on board, the 2003 record from Juanga's "Inocente de Ti" album has a fresh salsa twist, ready for some dancing!
The video was released Tuesday morning on the iconic Mexican singer's YouTube channel. However, it is expected to make its exclusive debut Tuesday afternoon on Telemundo's "Al Rojo Vivo," with encore presentations on "Un Nuevo Día," "Suelta la Sopa," "Acceso Total," "Titulares y Más" and NBC Universo.
"Yo Te Recuerdo" is part of Gabriel's recent studio album, "Los Dúo 2," a production that features 16 tracks ---all of which are Juanga's all-time classics! After collaborating with artists such as Fifth Harmony, Juanes and Natalia Lafourcade in the first "Los Dúo" album released early 2015, the "Te Sigo Amando" singer unleashed a second part featuring brand new collabs.
In "Los Dúo 2," already available on Apple Music and Google Play, the Mexican singer spices things up with all types of special guests! Pop artists such as Belinda, Paty Cantu and Franco de Vita jumped on board as did alternative artists Andres Calamaro and Carla Morrison. Then there's the participation of urban artists J Balvin and Wisin, who each add their Puerto Rican and Colombian sazon to the project.
One of the tracks we're most excited about is "Lagrima y Lluvia," featuring the late Joan Sebastian. The single was recorded prior to El Rey del Jaripeo's passing in 2015. Although it was rumored, we don't see an Elton John collaboration anywhere in this production. Perhaps "Los Dúo 3" ---which is already in the works--- will surprise us! Check out Gabriel and Anthony hug it out in the new clip below!
© 2023 Latin Times. All rights reserved. Do not reproduce without permission.