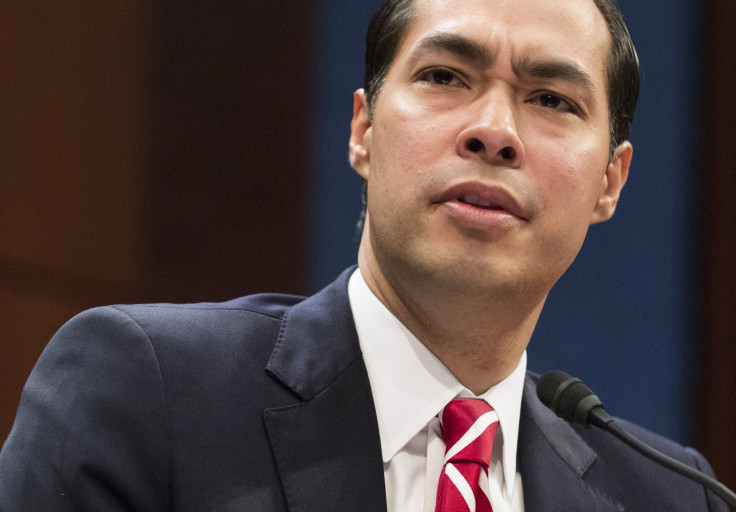 Julian Castro burst on to the national spotlight in 2012 when he was mayor of San Antonio, in a prime time speech at the Democratic National Convention. Julian, along with and his brother Joaquin (a Texas congressman) campaigned for Obama, rallying the Latino vote in the tightest battleground states. With 2016 just around the corner, Democrats may look to the Castro brothers to help rally that vote again. Of the two, Julian has a slightly higher national profile (though Joaquin stood in for his identical-twin brother at a parade in 2012 and no one noticed), and some speculate that he has a chance to be tapped for vice President, especially if Hillary Clinton wins the Democratic nomination.
Castro in no token Latino. He has comes from a Left-wing Chicano family and has trumpeted his activist roots. His mother was an active member of Texas chapters of La Raza, which Castro lauds in an essay included in the collection Writing for Change: A Community Reader.
"[My mother] sees political activism as an opportunity to change people's lives for the better. Perhaps that is because of her outspoken nature or because Chicanos in the early 1970s (and, of course, for many years before) had no other option. To make themselves heard Chicanos needed the opportunity that the political system provided. In any event, my mother's fervor for activism affected the first years of my life, as it touches it today," he wrote.
To pundits leaning toward the political right, Castro's political legacy is terrifying. "Radical," "anti-white" and "socialist" are just a few of the terms used to describe Castro's mother in the 2012 article "Julian Castro: A Radical Revealed." Pundits on both ends of the political spectrum are starting to spill ink on his potential as a VP. The left-leaning Daily Beast declared last week that "Julian Castro Is in VP Training Camp" as head of the Department of Housing and Urban Development (he's no longer mayor). Breitbart's accusations of "radicalism" might actually play into Castro's favor. The vice-president gets a little more room to be vicious and motivate the base.
While the Republican Presidential field is full of candidates with Hispanic credentials, the list of potential Democratic candidates is not. Republicans Ted Cruz and Marco Rubio, both Cuban-Americans, have officially announced their campaigns. Jeb Bush, who is married to a Mexican woman and speaks impressive gringo Spanish, is likely to join the race later this year. Hillary Clinton doesn't have any of those traits that might connect with Latinos on a personal level, and neither do her potential Democratic rivals, such as Senator Elizabeth Warren, or Maryland Governor Martin O'Malley. Not only is Julian Castro Latino, but he's also a southerner. His prominence in the West could help balance out Clinton's background in New York, Chicago, and the Beltway. Plus, he's young. Barely in his 40s, Castro could help balance out Clinton's campaign and keep a hold on the youth vote that fuels much of the Democratic base.
Democrats are likely to win a majority of the Latino vote based on pro-immigrant and pro-civil rights policies. Barack Obama isn't Latino, and he won around 70 percent of the Latino in both 2008 and 2012. However, elections are tight, and a few percentage points will make a huge difference. A likely member of Marco Rubio's campaign team said a few weeks ago that a Republican presidential candidate would only need about a 10 to 15 percent amongst Latinos to have a shot at the White House. If Cruz, or Rubio, or Bush make it to the final round with Hillary, she's going to want something to level the playing field.
HUD isn't the center of the national spotlight, and most of his efforts are going unnoticed. It's a recent lame-duck appointment, and Castro is likely to be replaced when his boss, President Obama, leaves office in 2017. For now, Castro says he's focused on on making housing more affordable for working-class Americans, who are increasingly pushed out of cities by high rent and land prices. While he's lobbying Congress for moderate increases in HUD funding, reporters keep asking him if he's being groomed for a spot on the 2016 ticket.
"There is no grand plan for the future," Castro told The Daily Beast. "We'll see what happens in the years to come. I'm trying to do a great job as HUD secretary. If you do a great job, that opens up opportunities, sometimes opportunities you don't even see in the future."
© 2023 Latin Times. All rights reserved. Do not reproduce without permission.