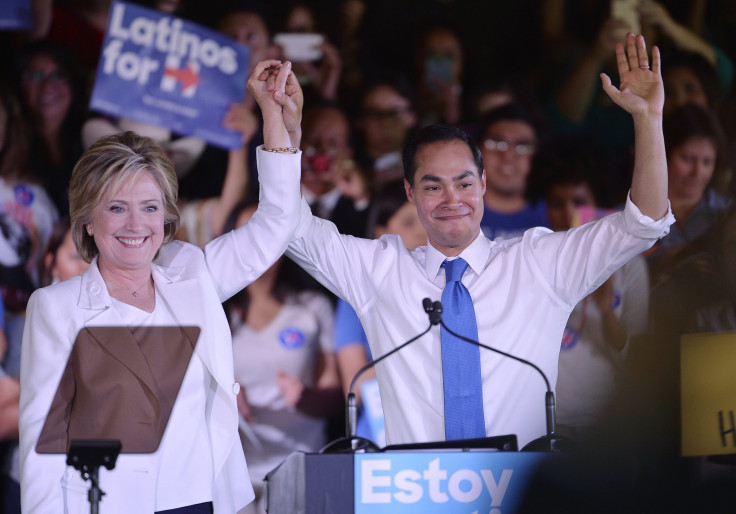 Hillary Clinton would make history if nominated as a president candidate by the Democrats as the first woman to win the backing of a major political party. But Clinton has also hinted that she'd make history in another way: nominating the first Latino vice-presidential candidate. The former Secretary of State confirmed on Thursday that Obama HUD Secretary Julian Castro would be considered for "everything" in her administration when asked directly if he would make a good vice-president, according to the NY Daily News.
Julian Castro, 41, is a the former mayor of San Antonio and the son of Mexican immigrants. He was tapped by Obama in 2012 to serve as the director of Housing and Urban Development. We spoke with his twin brother, Congressman Joaquín Castro (D-Texas) at a Clinton campaign event last Sunday in Las Vegas Nevada, ahead of the first Democratic debate.
"My brother is proud to support Hillary he believes that she would make the best president of the United States, Democrat or Republican. So he's going to do everything that he can of course to help her win," Joaquín Castro told reporters.
READ MORE: Hillary Clinton 2016: Latinos Organize For Candidate Ahead Of Democratic Debate; Joaquín, Julian Castro All In For Her
Joaquín's bother Julian Castro formally endorsed Clinton at a rally in San Antonio on Thursday, with the presidential candidate standing alongside him, NBC's Leigh Ann Caldwell and Monica Alba reported.
"Having watched and respected for years now Secretary Clinton, I know that she appeals to Americans of all backgrounds and colors, different perspectives and walks of life," Castro said.
Clinton has embraced Castro's endorsement even more warmly than, for example that of former New Mexican Gov. Bill Richardson, who did throw a rally. Here's just a sense of her extensive and complimentary remarks made towards Julian.
"I think really highly of him. I'm thrilled to have his endorsement today," she said at the rally. "I'm going to really look hard at him for everything because that's how good he is and he deserves the accolades he's receiving."
But Clinton's adulation for the rising Latino politician didn't end there. At a sit-down interview with U.S. Hispanic Chamber of Commerce CEO Javier Palomarez, Clinton answered a direct question as to whether or not she would consider Julian Castro as her VP, if she clinches the nomination.
"I'm going to really look hard at him for everything, because that's how good he is," Clinton said.
Other factors will affect Clinton's VP choice, including the GOP's final choice of candidate. If young Cuban-American Florida Senator Marco Rubio were to win the nomination, for example, Clinton would have an even greater imperative to bring a young minority into the race.
In any case, Clinton can count on Julian Castro as a key surrogate in the coming months of the campaign. If Clinton wins, he's almost guaranteed a coveted spot in her administration, if not the VP spot itself.
Depending on the assignment, he'd have a clean setup for a potential run in 2024 race, at which point he'd be a spry 50 years of age, with a national profile and a shot at becoming the first Latino to sit in the oval office. For now, that opportunity sits in Rubio's hands.
© 2023 Latin Times. All rights reserved. Do not reproduce without permission.