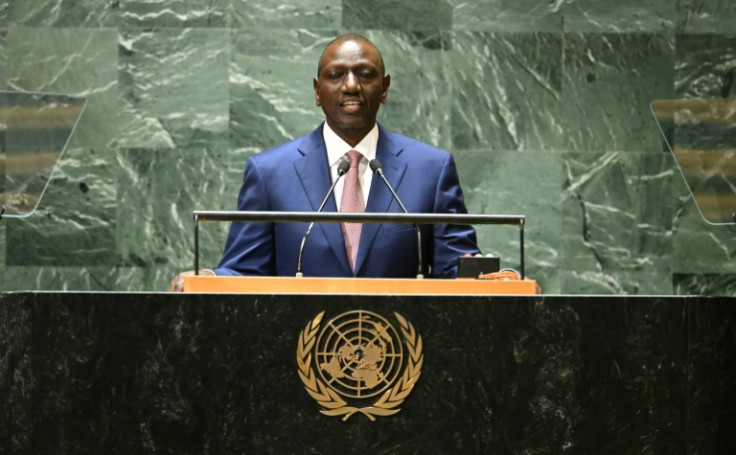 Kenyan President William Ruto on Thursday urged the United Nations to quickly authorize an international security mission to Haiti, which it has agreed to lead, as the impoverished Caribbean nation suffers from devastating gang violence.
"Haiti is the ultimate test of international solidarity and collective action," Ruto told the UN General Assembly. "The international community has failed this test so far, and thus let down a people very, very badly."
Haitian authorities and UN Secretary-General Antonio Guterres have for months been calling for a security mission to the island nation, but many countries have been hesitant to step in, partly out of fear of finding themselves in a bloody quagmire.
Kenya volunteered in July to lead a multinational police intervention to train and assist the Haitian police, but the mission would need a green light from the UN Security Council.
Ruto urged the UN to quickly work out a framework to allow for the mission to begin.
"Kenya is ready to play its part in full, and jointly, with a coalition of other nations of goodwill, as a great friend and true sibling of Haiti," Ruto said.
He added: "Haiti deserves better from the world."
Gangs control roughly 80 percent of the Haitian capital, and violent crimes including kidnappings for ransom, carjackings, rape and armed theft are common.
More than 2,400 people have been killed in Haiti since the start of 2023, the UN said last month.
Elections have not been held in Haiti, the poorest country in the Western Hemisphere, since 2016, and it has been hit by a never-ending series of economic, health and other crises.
Ruto said the mission should be part of a broader strategy that would include humanitarian aid and reforms "with the aim of enabling free and fair elections within a reasonable time frame."
A UN peacekeeping mission was in operation in Haiti from 2004 to 2017 but fell out of favor after a cholera outbreak traced to infected UN personnel claimed thousands of lives.