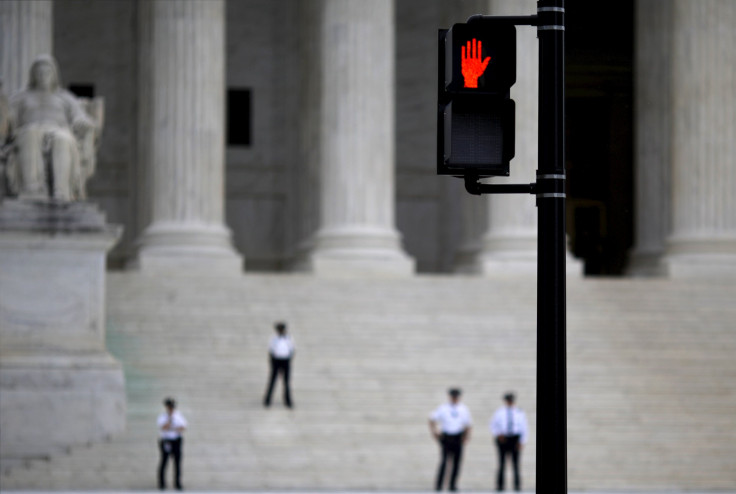 The Supreme Court released a long-awaited decision on Monday that will immediately impact immigrants and their U.S. citizen relatives for decades. In a 5-4 decision, the divided court decided that immigration officials do not need to give specific reasons for denying an immigration petition, even if the applicant has a U.S. spouse. The case involved a U.S. citizen, Fauzia Din, whose husband, Kanishka Berashk, was denied an "immediate relative" visa because of "terrorist activity." Din complained that the answer was too vague, and that the decision deprived her of the ability to live with her husband, in the U.S.
"Din cannot possibly claim that the denial of [her husband's] visa application deprived her of life, liberty, or property," Justice Scalia wrote in a majority opinion.
Therefore, Scalia argued, the government does not need to provide Din's husband with a reason why his application was denied. Even if immigration officials did need to, the simple phrase "terrorist activity" would be well enough to satisfy the requirement of of due process, he argued.
Berashk had worked as a government clerk under the Taliban when they controlled Afghanistan and continued his job under the democratic regime after the U.S. war there. Had he participated in "terrorist activity" simply by rubber-stamping papers, or was he suspected of something more serious? What the Supreme Court ruled is that those specific reasons don't have to be given, even if they would provide some form of defense or review for the applicant, and even if that person is married to a U.S. citizen.
Yet four dissenting justices bashed the majority ruling, saying that Din and Berashk were the victims of an arbitrary and obtuse legal system. Justice Breyer completely disagreed with Scalia, arguing that as a woman essentially condemned to live apart from her husband, Din was being deprived of her liberty enough to get an explanation or even an appeal. Justices Ginsberg, Sotomayor and Kagan agreed with Breyer, who called the "terrorist activities" reason as ridiculously vague.
"The reason ['Terrorist activities'] is analogous to telling a criminal defendant only that he is accused of "breaking the law"; telling a property owner only that he cannot build because environmental rules forbid it; or telling a driver only that police pulled him over because he violated traffic laws."
For Breyer, Din was told that she couldn't live with her husband in her own country because he'd violated terrorism laws. He pointed out that "terrorism" can mean anything from "hijacking aircraft and assassination" to "material support," which could be as minor as hosting a website.
The worst thing for Din, Berashk is that some parts of the "terrorist activities" designation are contestable; they could provide evidence that Berashk never aided the Taliban in a significant way. But without a reason, they can't provide a counter argument.
"We have often held that this kind of statement, permitting an individual to understand why the government acted as it did, is a fundamental element of due process," Breyer wrote in his dissent.
© 2023 Latin Times. All rights reserved. Do not reproduce without permission.