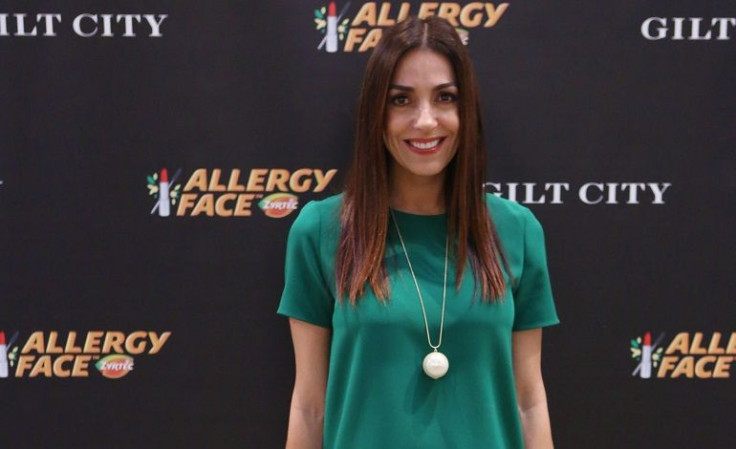 Fashion and Beauty expert, Kika Rocha, knows too well that she shouldn't endure her allergies during the spring or fall, also known as the allergy seasons. To avoid missing out on the things she likes doing most, the first thing she does when she feels that her allergies are acting up is take an antihistamine like ZYRTEC, which starts working to relieve her allergy symptoms from the first hour of the first day, to help her feel better. Then, she follows these beauty solutions to help her look great during the spike of allergy season. These are a few of Kika Rocha's go-to beauty tricks, that are great to help combat allegry face beauty challenges.
She starts with a yellow-based concealer/highlighter, a must-have for covering up dark circles and puffiness due to allergies, which helps brighten up your face. You can find one at your local drugstore or supermarket. When your eyes are watery and your nose is red from allergies, brighten up your lips with a bold shade of lipstick. A beautiful red or bright pink will make your teeth look whiter, and nothing makes you look more beautiful and confident during allergy season than a big, bright smile! Every woman should have a waterproof mascara and a clear mascara in her makeup bag, whether she's an allergy sufferer or not.
Waterproof mascara will stay in place all day, even if you're dealing with watery eyes caused by allergies. Rocha also recommends a clear mascara to style and lift your eyebrows up and away from your eyes. When your eyebrows are neatly shaped and groomed they wake up your allergy face, and Kika thinks they make you look younger too! Instead of layering on a heavy foundation, Kika recommend a CC "color correcting" or BB " blemish balm" cream that matches your skin tone. The lighter consistency makes it easier to reapply around the chin and eyes, and camouflage redness caused by allergies around the nose. These formulas also help keep the skin hydrated.
Bronzer is a great tool for chiseling and contouring puffiness caused by allergies, but make sure you select the right shade for your skin tone. The best way to find out what is right for you depends on how you tan: Golden, Dark or Red. Test different shades on your skin to make sure it blends in smoothly and doesn't go on too dark or too bold. When it comes to application, stick to the areas where the sun would actually kiss you, like your cheeks and forehead, and be sure to blend well. If your skin becomes golden when you tan, look for a bronzer with gold undertones.
This is usually the best shade if you have medium or olive skin tones. If your skin gets really dark and becomes toasted like cinnamon, select a bronzer with brown undertones. If your skin is very light and burns easily, opt for a bronzer with peach or pink undertones to give you a more natural looking glow. When you're on the go, and you don't have your makeup bag of tricks handy, a bottle of cold water will not only keep you hydrated, but it will help reduce puffiness caused by allergies. It's always important to stay hydrated from the inside out by drinking plenty of fluids and eating foods high in water content. Kika's personal favorite is coconut water.
© 2023 Latin Times. All rights reserved. Do not reproduce without permission.