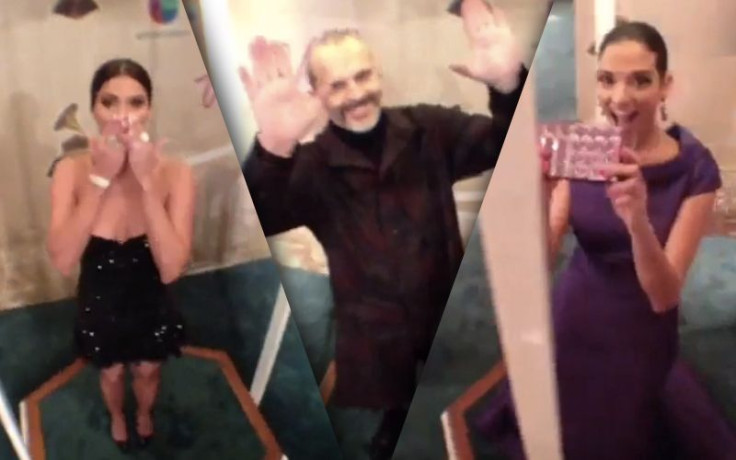 The Latin Grammys 2014 are in full swing in Las Vegas as the green carpet has been rolled out to welcome the biggest names in Latin music. Hosted by Jacqueline Bracamontes and Eugenio Derbez, the MGM Grand in sin city has been transformed in the stage that will see some of the biggest Latin names in the music industry. Confirmed to perform are Rubén Blades, J Balvin, Calle 13, Pepe Aguilar, Miguel Bosé, Yandel, Gadiel and Farruko are some of the artists that have been seen roaming around and will take up the stage to give a grand performance. Other performers include Jesse & Joy, Pablo Alborán, Pablo López, Aneeka, Mariana Vega and more. Check out the best vines from the arrivals carpet down below!
Last night Joan Manuel Serrat was honored as the Person Of The Yearby the Academy in an event leading up to the main event tonight. "I've spent 50 years writing songs," said Serrat in his acceptance speech at the Mandalay Bay Convention Center. "I sing because I love to sing. I haven't met any colleagues who didn't share that pleasure." Artists like Miguel Bosé were at the dinner celebrating his achievements. Bosé performed "Lucía," while Natalia Jimenez took the stage to sing "Penélope." Other artists are the event honoring the legendary Spanish singer-songwriter were Juanes, Lila Downs, Jorge Drexler, Rubén Blades, Pablo Alborán, Tania Libertad, Diego Torres and many more.
© 2023 Latin Times. All rights reserved. Do not reproduce without permission.