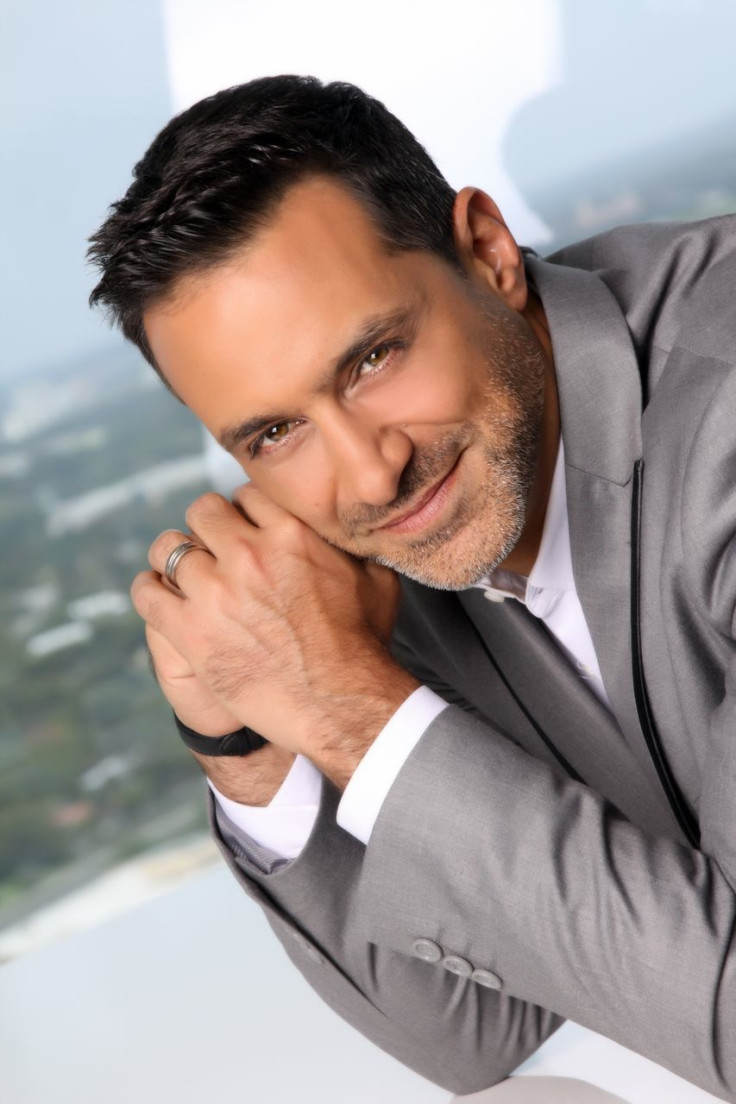 Editor's note: This profile is part of a weekly series by Latin Times featuring a prominent Latino or Latina.
Omar Germenos Arrioja entered the entertainment industry at the young age of 15 when he began taking part in commercials for television. Germenos studied Communications at the Ibero-American University in Mexico City, while continuing to model and work on advertisement campaigns. A trained actor, Germenos made his acting debut in 1995 and has been seen on screen for several television shows.
Germenos came to the United States as the host for Univision's successful game show "El Bla Blazo". After a few years, he returned to Mexico to work for TV Azteca, the company where he got his start, and had a diverse career in Mexico with game shows, magazine features, morning and prime time entertainment shows, soap operas, short films and more.
Germenos returned to the United States with his wife, Mexican actress Gloria Peralta, and the couple's two children, Darius and Bruno, after being offered a role in Telemundo's soap opera "Donde esta Elisa? and was the host for NBC/Telemundo's show "Levántate". He currently is a host for NBC/Telemundo's "Un Nuevo Dia," a daily morning show.
Latin Times spoke with Omar Germenos about being a Latino in the entertainment industry, his experience living in the United States and even his favorite Mexican dishes. Read our Q&A below, and for more information, follow Germenos on Twitter and visit his website.
1. What your experience like working in the United States? Were there any obstacles you had to overcome?
"Not really. It was really good actually because I was single and I was young. I didn't know about the Hispanic market we have here. I had a great time. I moved to Miami for the first time. Those days I wasn't thinking about family or a marriage so the place was great, but I didn't know if it was a good place to raise a family. Everything was perfect: I had a great time, a great job and a great projection on the market.
And then I returned to Miami with my wife and kids, with a different network. The first time was a really good experience and this time is great because I'm enjoying Miami as a father and a husband."
2. Your career was booming in the United States, why did you decide to move back to Mexico?
"I didn't see Miami as a place to raise a family and the network I worked with back in Mexico called me back. I had a great time there; it was like going home in a way. We decided to come back to the United States again because it has been very difficult the past three four years for people living there. We had a great chance to work here again with an American network so we came back."
3. Would you want to move back to Mexico in the future?
"I feel fine and comfortable in Miami for at least the next, at least, five years. Normally, in this industry, the whole family travels when they give you work. We don't want to do that as we have the mindset to stay in one place for many years. So, we were testing Miami for the past three years and we've decided we would like to stay for at least five more years."
4. What are some of the traditions you would want to bring to your children while raising them in Miami?
"Well, of course the language. It is very difficult for kids when they are young to live here, go to school and speak two languages. We have one rule that we have to speak in Spanish in the house all the time. I think it is a gift for them to have both languages. The other thing: Food. We try really hard and find a way to do it. Basically, we try to stay in touch with customs and the family values."
5. Your transition to the United States was seamless, what about your children? What was their experience like?
"Children are children. In the end it is easier for them to adapt to any place. My wife and I have learned that family is where everyone is together. For example, when four-year-old was two, he used to say he lived in a building called USA. In the end, they don't know the difference, they just want to be close to mom and dad."
6. You returned to the United States at two different times, did you feel a difference in the demand for Latinos in the entertainment industry?
"Oh yes, of course, for sure. The first job I did was for Mexico, for Telemundo. I wasn't aware of the market and the niche they had here. In those days, I was amazed by the potential the market has. Almost fifteen years later, I can see everyone is interested in the Latino market. It's like people are finally trying to understand the individual different cultures."
7. What are your current projects?
"I'm working with Telemundo for their morning show. I want to focus on what I do as a host, as an actor by taking care of my family and the environment. I think, in general, people don't do what they are told. It doesn't work if I tell my children to take care of the environment and not do anything myself. But if I do it, they see it and then I don't really have to say anything.
Toyota is a great opportunity for me to go with this thinking, of setting an example without telling them. They sometimes ask why the hybrid doesn't make a sound and step by step they can understand that if they recycle the trash, they use this type of car, if they watch their behavior then they can help the environment too. It's a great chance for me to set an example for my children."
8. Why do you think it is important to maintain a green lifestyle or to make your life greener?
"It is important because normally big cities have traffic and pollution. I mean, I used to live in Mexico City which is very polluted and I can feel the difference in a polluted city. There's no other choice, we have to make a difference and pollution is one of the worst problems. Right now, let's take a city like Miami, if you don't have a car you cannot live. We need a car but we can also make a change by having what we need and making better choices."
9. If you could make argument that represents your view on immigration reform in the United States, what would it be?
"Most people in the United States came from another country, or at least their family. It seems like people forget that sometimes. In a few generations, my descendants will be from here--they may not remember they are from Mexico. I would try to make people remember that they may hear stories from their grandparents, but they don't really know it. This country was made from immigrants from the beginning."
10. What is your favorite Mexican dish?
"That's a difficult question. Mole for sure and chiles rellenos."
© 2023 Latin Times. All rights reserved. Do not reproduce without permission.