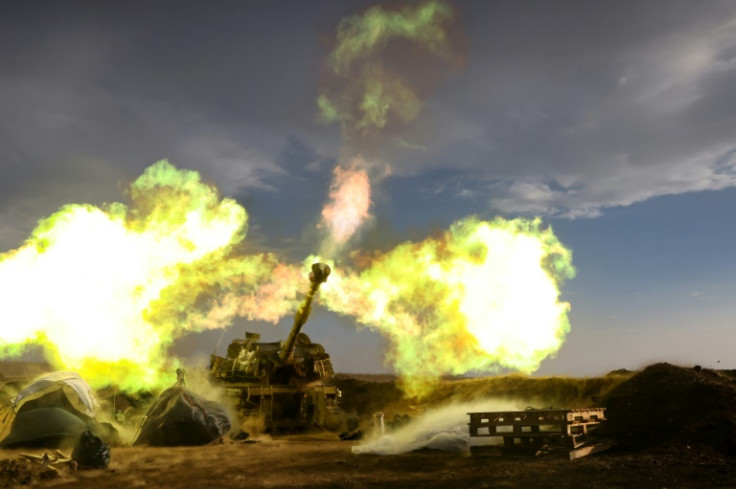 Lebanon's Hezbollah said it attacked 19 Israeli positions along the border simultaneously Thursday, prompting a "broad" retaliatory assault, on the eve of a speech by the Iran-backed group's leader on the Israel-Hamas war.
Another barrage of rockets wounded two people in the Israeli town of Kiryat Shmona near the Lebanese border, Israel's Magen David Adom emergency medical service said.
The Lebanese section of Hamas's armed wing said it fired a dozen rockets at the town "in response to the occupation (Israeli) massacres against our people in Gaza".
The Israel-Lebanon border has seen escalating tit-for-tat exchanges, mainly between the Israeli army and Hamas ally Hezbollah, since the Palestinian militants launched a shock October 7 attack on Israel from the Gaza Strip, stoking fears of a regional conflagration.
Hezbollah said that at 3:30 pm (1330 GMT), its fighters "simultaneously attacked 19 Zionist military positions" with guided missiles and artillery shells.
The assault came as Hezbollah carried out a drone attack on an Israeli barracks in the disputed Shebaa Farms area, the group said in a statement.
The Israeli military said it targeted the group with a "broad assault", in which "warplanes and helicopters" attacked Hezbollah targets "in response to fire from Lebanese territory earlier today, together with attacks with artillery and tank fire".
Israel has carried out relentless strikes on Gaza since Hamas militants attacked border communities and military outposts on October 7.
Hezbollah chief Hassan Nasrallah is set to speak Friday for the first time since the Israel-Hamas war broke out.
French Defence Minister Sebastien Lecornu said Lebanon "doesn't need a war" with Israel, during a visit on Thursday to his country's contingent in the United Nations Interim Force in Lebanon (UNIFIL).
Such a war "could have major escalatory effects on the whole region," he said.
Earlier Thursday, Hezbollah said it had downed an Israeli drone with a surface-to-air missile, the second such claim in days.
Lebanon's army meanwhile retrieved the bodies of two shepherds killed by Israeli fire, official media said, raising to 66 the number killed in Lebanon since the Israel-Hamas war began, according to an AFP tally.
The two shepherds, aged 20 and 22, had been reported missing on Wednesday as they herded their flock through Wazzani, their home village near the border, Lebanon's National News Agency (NNA) reported.
"They were found dead after the (Israeli) occupation forces opened fire in their direction," the NNA said.
Most of those killed on the Lebanese side have been Hezbollah fighters but the number also includes seven civilians, one of them a journalist.
On the Israeli side, nine people have died -- eight soldiers and one civilian, the army says.
UNIFIL said that on Wednesday "two projectiles landed and exploded 10 metres" (32 feet) from a peacekeeping position in the southern village of Beit Lif, "causing significant damage to a wall and minor damage to some UNIFIL vehicles".
"UNIFIL reiterates its great concern that our positions are being hit in the exchange of fire," a statement said.
Israel says its aim in Gaza is to destroy Hamas following the October 7 attacks, the worst in the country's 75-year history, with officials saying militants killed 1,400 people and kidnapped 242 others.
It has been bombarding Gaza since then in an assault that the Hamas-run health ministry says has killed more than 9,000 people.
© 2023 Latin Times. All rights reserved. Do not reproduce without permission.