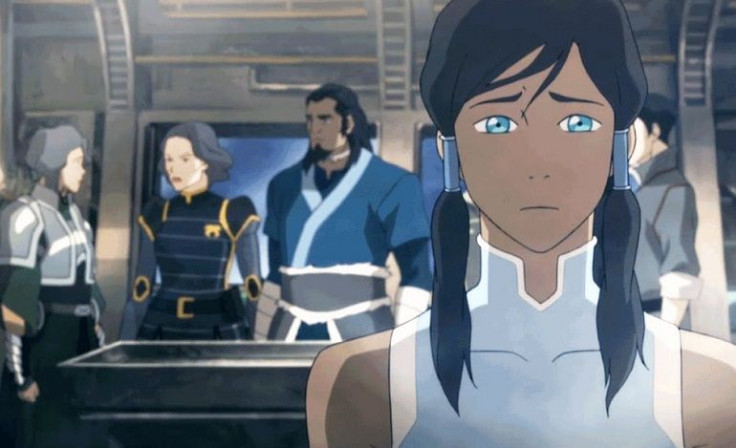 "The Legend of Korra" season three may be over but the news for the series still keeps coming. In a recent sit down with IGN the cast from Nickelodeon's hit-animated series talk the "Book Three: Change" finale along with some tid bits about Book Four. Janet Varney who voices Korra and David Faustino who voice Mako recap the devastating finale, some of their favorite moments from season three and much more.
They start off the talk with the final episode which can only be described as jaw-dropping."Well I continue my trend to finding an opportunity to cry in every episode, as a viewer I mean. This was no exception if anything I cried more than usual," said Varney.
"It's tough. There is obviously some great uplifting things that happen like Korra reuniting with her dad. But how tough to be out of commission for her," Varney continued. "Unlike Aang who was such a reluctant avatar she [Korra] feels like that is her identity and to not have that right now has got to be so frustrating."
They also talk about the Mako, Korra, Asami love triangle. Faustino describes Mako's love for the two characters as different saying, "His love for Asami is very different than his love for Korra. It's much deeper."
Whereas Varney couldn't even believe love was even an option saying, "Oh my gosh! Who has room for romance. I think they look at each other like 'If things were different' but they're not."
Faustino and Varney both found it amazing that these teens are much more mature than normal. Faustino says, "They [Korra and Asami] have such a higher purpose and they are more evolved and they enjoy the friendship. Its a bit awkward but their purpose is much higher than getting involved in the petty."
As for season four both Varney and Faustino unfortunately couldn't divulge any secrets. With a laugh Varney says "I really couldn't say" in regards to what's to come in Book Four.
"We can only guess because we recorded, as you know, a while ago so we don't know what's to come," said David Faustino. Varney jokingly adds, "Also we have to take a special amnesia pill after we finish recording each season."
Faustino finishes the interview saying he would "love" to see Mako end up with Korra in the coming season. Check out the full interview below!
© 2023 Latin Times. All rights reserved. Do not reproduce without permission.