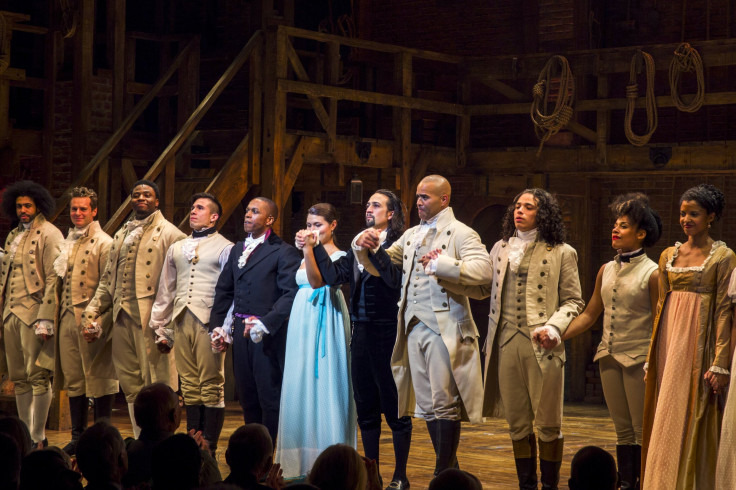 The acting world may be challenging for some when it comes to making a profit, especially if you are in the Broadway scene.
Even though Broadway actors and dancers can make up to $1,900 a week, once the show ends its run, they have to go back out there and audition for a number of roles before they land a new gig.
Lin-Manuel Miranda's "Hamilton" cast and producers just made Broadway history by striking a deal on profit sharing.
According to The Hollywood Reporter, the play's former cast will now earn royalties for the characters they originated in the historical bio-musical, which is something never seen before in the theatre industry.
"This should be a real moment of celebration for any actor who feels powerless," the president of Actor's Equity Kate Shindle told The New York Times.
Even though no specific details about the historic deal have been publicly discussed, Variety reports that actors will share in what is likely a similar percentage of profits, which will be coming from not just the New York City production, reportedly banking more than $500,000 a week, but also regional productions and other potential stagings around the world.
"There should be a place for the actors to participate in the success of a project," Mary McColl, the executive director of Actor's Equity told NYT.
The union has convoked a meeting on Monday to hear back from other actors, who have lent their talent to give life to other major Broadway characters. If this deal expands through the theatre community, former actors from other Broadway hits could benefit from it, including "The Lion King," "Wicked," "Phantom of the Opera," "Jersey Boys," "Aladdin," to name a few.
In the early stages of "Hamilton," Equity sought a workshop contract that would allow actors a share of future royalties, but parties could not reach an agreement.
© 2023 Latin Times. All rights reserved. Do not reproduce without permission.