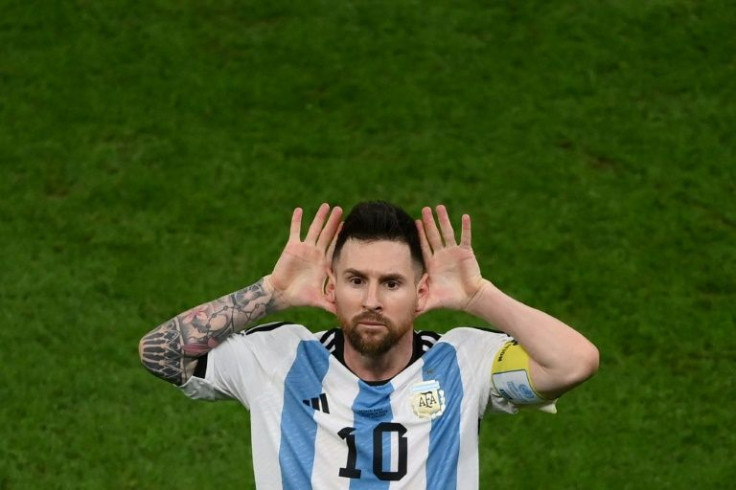 Lionel Messi confirmed that the World Cup final in Qatar set to be held on Sunday, Dec. 18 will be the last World Cup game of his career.
Argentina forward 35-year-old Lionel Messi confirmed that he has no plans to appear at another World Cup after Sunday's final in Qatar. Messi, who is playing in his fifth World Cup, has never won the World Cup. He scored his fifth goal of Qatar 2022 and helped set up two others in Tuesday's 3-0 semi-final win over Croatia, CNN reported.
Messi will turn 39 years of age when the next edition of the World Cup is staged in the United States, Canada, and Mexico.
"I am very happy for finishing my journey in World Cups in a final, to play the last game in a final. That is really very gratifying," he said.
"Everything I lived in this World Cup has been emotional, seeing how much it has been enjoyed in Argentina. There are a lot of years from this year to the next one. I don't think I will be able to do that. To finish this way is brilliant."
"I'm enjoying everything a lot, I feel strong to be able to face each match. We've come along making a lot of big sacrifices, like playing the extra time which wasn't easy. We were tired but the group gave that little bit more, it was a very tough game which went the way we prepared for.
"We knew they would have the ball a lot and that we would have our chances. It was a well-prepared match like we always manage, and I'm happy, I'm enjoying it all a lot," he said.
Argentina hasn't won the World Cup title since 1986. They will play France in the final on Sunday, Dec. 18. In the World Cup final, Messi is set to make a record 26th appearance in a men's World Cup, BBC reported.
Numerous records have been set by Messi in this tournament. Messi became Argentina's record goalscorer at World Cups with 11 strikes and also became the only Argentine player to net in four World Cups. He is also one of just six players who has appeared in five editions of the competition.
In the 2022 Qatar World Cup, Messi also chipped in five goals and three assists. If Argentina wins the World Cup, Messi could also be named player of the tournament.
© 2023 Latin Times. All rights reserved. Do not reproduce without permission.