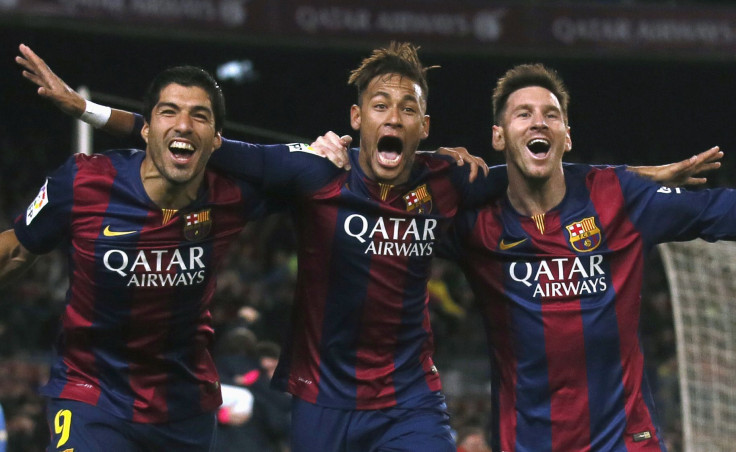 The three-headed monster of FC Barcelona reared its ugly head on its opponents again on Sunday. This time it was Atletico Madrid who fell victim to the lethal triple threat combo of Lionel Messi, Luis Suarez and Neymar. All three players scored each of Barcelona's three goals and the Catalans defeated Atleti 3-1 at Camp Nou.
It was a must-win game for Barca as a loss would have dropped them into third place in the La Liga standings. Instead, with the win, FCB secures sole possession of second place and it earned three very big points to keep pace with leaders Real Madrid who lost their first league game in over 22 matches to Valencia last week.
Messi sent a bouncing cross inside the box to Luis Suarez who was in position for the goal. Suarez missed on the shot and thankfully, Neymar was right behind him to calmly bury the ball into the back of the net.
After Atletico upped their physical play, Messi again responded with a beautiful pass to Suarez in the 35th minute. The Uruguayan native blasted a shot into the net to give Barcelona the 2-0 lead.
After halftime, Atletico Madrid responded with a penalty shot taken by Mario Mandzukic that Barcelona keeper, Claudio Bravo, had no chance to save. Suddenly, Barcelona clung to a one-goal lead with just over thirty minutes left to play.
Barcelona would respond however and put the game away in the 87th minute thanks to the four-time FIFA Ballon d'Or winner. After newcomer, Fernando Torres, entered the game to cheers from his home country crowd, Messi executed a give and go to perfection with Ivan Raktic and just got his foot on the final goal of the game.
Check out all three goals scored by the lethal Latino triple-threat of Barcelona below and note the game's commentator who accurately says after the first goal: "Messi, Suarez and Neymar spells trouble, it spells G-O-A-L."
Barcelona 3 - 1 Atletico Madrid All Goals and... by ViralDailyTV
© 2023 Latin Times. All rights reserved. Do not reproduce without permission.