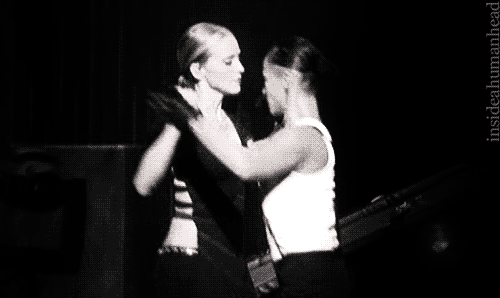 When I was 9-Years-Old I used my allowance, that I had saved for many Sundays, to buy Madonna's "Like A Virgin" in vinyl, of course. I will never forget the reaction the store clerk at the music store in Mexico had: "What?! Your parents allow you to listen to that... woman?". Today I'm 38 and Madonna is 55. We've been through good and bad times, through highs and lows. I've hated some of her choices, and I'm sure she would disapprove of some of mine too. But she has always been with me. Today we celebrate the 55 anniversary of the Queen Of Pop with our Latin angle. Sure, most of us know her songs in and out, but what about her love for the Latin culture --not to mention Latin boytoys. From "La Isla Bonita" to the less known "Lo Que Siente La Mujer", these are Madonna's Top 10 Songs inspired by our unique rich culture. Happy birthday, señorita Ciccone!
10) Spanish Lesson - OK, so she can't teach Spanish. She does not even know how to pronounce it and the translations are really embarrasing. Mucho gusto means I am welcome to you? No, just no. However the Spanish guitar is contagious and you can't help but like Madge's efforts to sing in Spanish. If only she hired me to teach her how....
9) Who's That Girl - Before The Queen Of Pop became considered for her music rather than her life and image, Madge insisted on having Spanish phrases in the chorus of her songs. But really señorita Ciccone, do you think your character was a "señorita más fina"? (so fine lady?). Anyhoo, the song propelled into the charts and it's contagious as hell.
8) I'm Going Bananas - For her Breathless interpretation in Warren Beatty's "Dick Tracy", Madonna went all the way, including manufacturing a complete CD based on the movie. In what is her least interesting album, she did manage to have a funny idea with a on-purpose nasal voice accompanied by a mariachi!
7) Buenos Aires - Being pregnant of Lourdes María and preparing for the on-screen role of the musical based on the legendary Eva Perón was the best thing ever happened to Madonna. Her voice had never sounded like this, her energy has never been more positive. The result is palpable in the soundtrack of the movie, in peculiar the song "Buenos Aires" where you can imagine her dancing a good rumba, and pronounces Spanish well --she can if she wants.
6) La Isla Bonita (Sticky And Sweet Tour Version - Gypsy Version) - The "Lele Pala Tute" version of her iconic "La Isla Bonita" is simply the best reinvention of her songs. You almost wish she re-recorded the song like this, with the violins, the claps, and that energy that makes this song her favorite to sing on the stage.
5) Verás - Penned by David Foster and M herself, the song written for her ballad compilation "Something To Remember" represents Madonna at her most mature. Her Spanish is very odd in this one, but as powerballad, is better than many out there.
4) La Isla Bonita (Drowned World Tour Version - Flamenco) - "¡Vamos Antonio, dale dale!" Who can forget this rendition of "La Isla Bonita" at this tour? The Drowned World Tour was the first artistic attempt of Lady Madge to take a concert beyond singing and dancing. Visually impressive, and with re-arrangements of her songs, "La Isla Bonita" became the most memorable with a full-fledge flamenco sound, choreography and just sheer fun.
3) Lo Que Siente La Mujer - The Mexican press of her "Music" album had two bonus tracks, "American Pie" and a Spanish version of "What It Feels Like (For A Girl)". Thankfully, Charlotte Gainsbourg's intro is not translated. And, yes, this is Madonna's worst pronunciation of español but the melody is so beautiful, and her struggle so apparent, that you simply give in and end up singing the odd rhymes... "comprender... conocer".
2) Pray For Spanish Eyes - One of Madonna's most overlooked songs comes from her lauded "Like A Prayer" album. It is not, as many have suggested, "La Isla Bonita 2", but a beautiful rendition with a killer Spanish guitar and trumpets about a "barrio" guy murdered by a gang. The last spoken part just makes our skin crawl: "Tus lágrimas de tristeza no me dejan olvidarte" (Your tears of sadness will not let me forget you).
1) La Isla Bonita (Album Version) - Madonna's first words in Spanish were "Te dijo te quiero" (he told you I love you) and "Él dijo que te ama" (he said that he loved you). And maybe those should've been her last spoken words in Spanish at least outside of Carlos León and some other papis' bedrooms, but we guess when you are Madonna you can do lo que se te dé la gana. Nothing however, will surpass her "Beautiful Island". According to M herself this song is a tribute to the beauty of Latin people, so noted Madge.
© 2023 Latin Times. All rights reserved. Do not reproduce without permission.