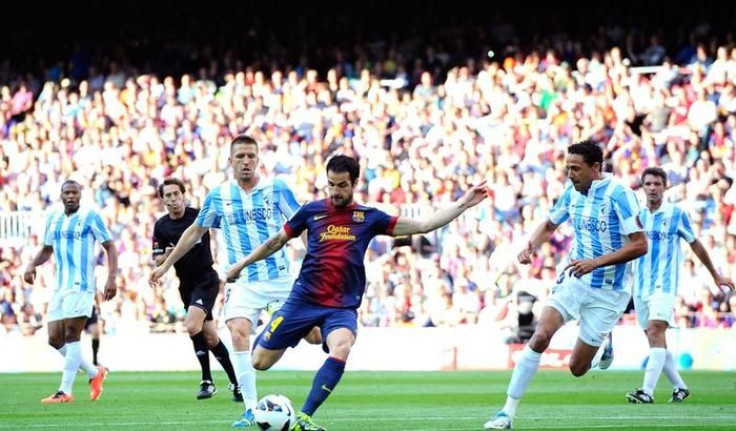 Though previous attempts to secure the signing of Barcelona midfielder Cesc Fabregas have proven unsuccessful, Manchester United higher-ups remain highly interested in the Spanish star since he would surely give the club a boost at a needed position. High-profile figures in Borussia Dortmund star Marco Reus, Bayern Munich talent Arjen Robben and other top players have been heavily linked to Old Trafford in recent time but that doesn't mean the Red Devils -- who finished seventh in the final 2013-14 Barclays Premier League standings -- aren't still monitoring one of Barca's top players. With multiple needs and upwards of £150 million expected to be available this summer, Old Trafford bosses are prepared for a revamping of the roster.
"It's fair to say we are focused on strengthening the squad," said Manchester United executive vice-chairman Ed Woodward. "We are looking at some players in the squad as well, as players that perhaps may be sold this summer. We wouldn't necessarily be looking to churn a huge number of players, because that can have a destabilizing effect, but we aren't afraid of moving in the market in a way we perhaps haven't seen in recent years. If you look at the historical churning of players by number, we've had roughly three sales and three purchases each year, and it's possible we would do more than that, but I can't guide as to where that may end up."
Fabregas is viewed by United officials as a player capable of helping the English giants reclaim their place atop the competitive Barclays Premier League and with Netherlands boss Louis van Gaal expected to be named the club's next manager, Fabregas could become one of many major acquisitions the BPL affiliate makes during the approaching transfer window. Former coach David Moyes -- who was fired during his opening season at Old Trafford -- attempted to land Fabregas last season but with a new coach set to be in place shortly, a different outcome could be experienced if United elects to pursue Fabregas in high gear once again.
Though Arsenal and Manchester City sit as competitors for Fabregas, United's willingness to spend roughly £45million on the former Arsenal Gunners talent could be enough to bring the 27-year-old back to England.
© 2023 Latin Times. All rights reserved. Do not reproduce without permission.