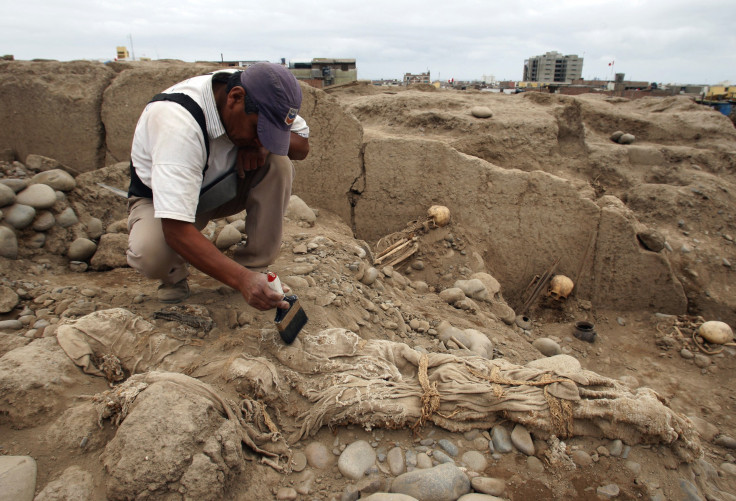 Archeologists working in Peru uncovered a number of mummified dogs alongside human remains. There were 137 dogs uncovered that scientists believe to be 900-years-old. The mummies were found in an archeological complex in Peru's Lima Zoo. The dogs were found in relaxed positions lying next to their human counterparts. It is believed the 137 dogs were buried with their owners as part of a ritual ceremony. The head of the Lima Zoo's archeology departments says they cannot say for certain if the dogs were uses in a ritual but the evidence they have collected is suggesting so.
"We cannot determine with total certainty yet whether these animals were used in some kind of ritual, but given the evidence, that is the hypothesis we are handling," said Lucenida Carrion of the Lima Zoo to Peru's El Comercio. The dogs' remains have been looked over by Enrique Angulo a veterinarian who determined the dogs varied in age and suffered from an assortment of diseases. The remains of some dogs were found with special offerings such as vegetable rope and reeds.
These offerings were part old cultural traditions specifically in Lima. The use of reed and vegetable rope started developing in Lima between the second and sixth centuries. The dogs are believed to have had yellow and brown fur which is not a characteristic of the pre-Inca native hairless dog breed. The study into the newly discovered dog mummies is still in its early stages. Carrion says the team is planning on using carbon dating to get a more accurate idea of when these animals were buried.
The discovery of the mummified dogs is not the first of its kind in Lima. In 2006 National Geographic announced the discovery of 43 mummified dogs found in a 1,000-year-old pet cemetery in Lima. The archeologists that made the 2006 discovery were excavating a human burial plot when they found the dogs. The bodies found in both the human and pet cemetery belonged to members of the Chiribaya culture a society that existed from 900 to 1350 B.C.E, before the rise of the Incas.
More From Latin Times
Amanda Knox Ex Raffaele Sollecito Says New Murder Trial Is 'Nonsense' [VIDEO]
Paraguay Teachers Caught Dancing With Strippers At School Retreat
© 2023 Latin Times. All rights reserved. Do not reproduce without permission.