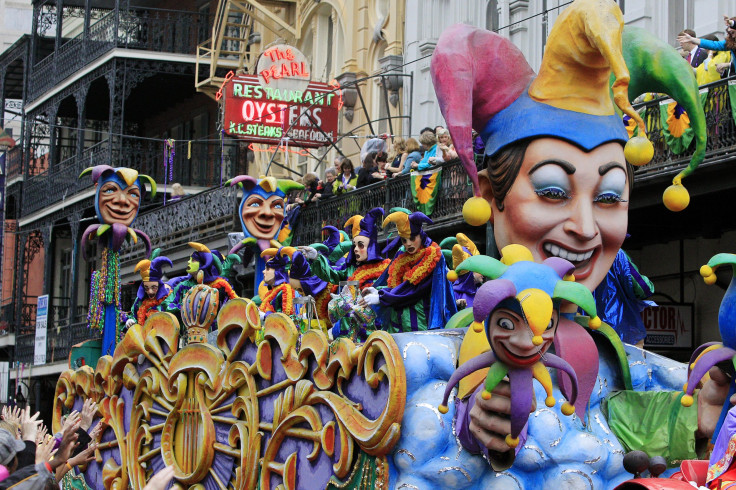 The history of Mardi Gras can be tracked back thousands of years. When Christianity arrived in Rome, religious leaders decided to keep already popular traditions such as, celebrations of spring and fertility and the rowdy Roman festivals of Saturnalia and Lupercalia, in their new faith calendar. Which is why, excess and debauchery are often linked to this world famous holiday.
According to historians, those who were planning on attending the festivities would binge on foods and drinks in preparation for Lent, the season of the Christian Year where devotees focus on simple living, prayer, and fasting in order to grow closer to God. All of the sudden it makes sense that the holiday is also referred to as "Fat Tuesday," correct?
Many connoisseurs believe that the first American Mardi Gras took place on March 3, 1966. However, in 1827, a group of students decided to dress up in colorful costumes and danced through the streets of New Orleans, a ritual they borrowed from the French. Ten years later, the first official Mardi Gras parade took place and the tradition continues to this day.
This year, Mardi Grass falls on Tuesday, February 9, and partygoers from all over the world are already heading to New Orleans, where you can catch the most popular parades, like Endymion, Bacchus, Zulu, Rex, and all of the festive celebrations the city has to offer.
Scroll down to read a few fun facts about this world famous celebration:
1) Mardi Gras, or "Fat Tuesday," is the last day of the Carnival season and it always falls the day before Ash Wednesday.
2) Mardi Gras is not just for adults. Prior to the actual holiday, the city of New Orleans offers entertainment for everyone during Family Gras.
3) Lousiana is the only state in which Mardi Gras is a legal holiday.
4) According to the legend, in the 1880s, a man dressed like Santa Claus became famous for throwing beads at the parade and so the tradition began!
5) The earliest reference to Mardi Gras "Carnival" appears in a 1781 report to the Spanish colonial governing body. Hundreds of clubs and carnival organizations formed in New Orleans that year.
6) People who participate in the parades are referred to as "krewes."
7) Mardi Gras is pet friendly! Your furry BFF gets a chance to celebrate the holiday during "Krewe of Barkus."
8) Mardi Gras is not just celebrated in New Orleans, pre-Lenten festivals are also observed in Brazil, Canada, Italy, Germany, Denmark and Mexico.
© 2023 Latin Times. All rights reserved. Do not reproduce without permission.