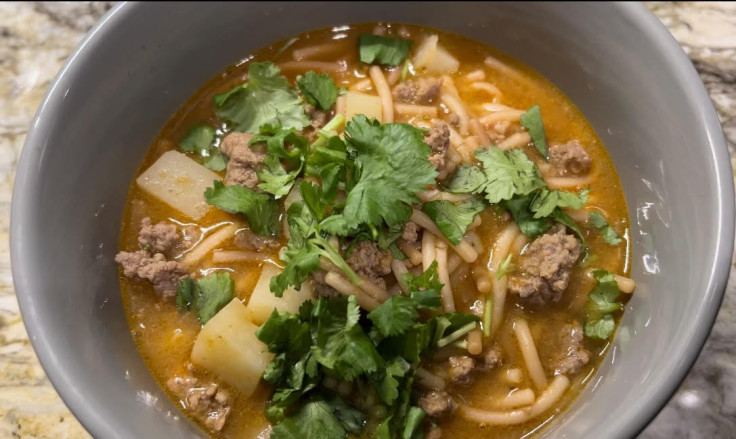 Growing up in a Hispanic home, there was always food at home, and whatever mom would make we had to eat. When I was a kid, I was a very picky eater and I hated vegetables so much that my mother would get creative enough to hide or blend vegetables in my food. My mom had three kids and a husband to feed, so cooking was always a struggle, especially with picky eaters.
I can't remember how many times I would set my vegetables aside and wrap them in a paper towel to throw away later or feed them to the dog. My mom would worry that we were not getting enough nutrients in our bodies and sure enough we got sick very often.
However, my mom had a great and easy solution for those days when she didn't know what to cook for her picky eaters, the sick days, and the rainy days.
She introduced us to Sopa de Fideo and it was the best thing ever.
Today Sopa de fideo has become one of my comfort foods because it reminds me so much of my childhood. Whenever the weather is gloomy, whenever I feel sick, or when I need to make a quick meal, on a budget, sopita de fideo is the way to go.
Sopa de video is super simple to make and it's also very light on the stomach and can be eaten anytime during the day. You can add beef or chicken and vegetables such as potatoes, carrots, and zucchini to make them more nutritious. It is also a very good weight-loss choice, and it is very easy on the tummy.
The weather has been gloomy in Texas lately, so I decided to make some fideo with ground beef and potatoes and it was delicious.
You will find below the recipe and a TikTok Video where you can see how fideo is made.
Note : this recipe can feed up to 7 to 8 people
"Sopita" De Fideo
Ingredients:
 2 packs Fideo noodles (also called vermicelli)
 1 to 2 lbs. of Protein of choice (chicken or beef)
 3 tomatoes
 ½ onion
 3 garlic cloves
 1 serrano pepper
 6 cups of water (or broth of choice)
 Freshly diced vegetables (potatoes, carrots)
 1 bunch of cilantro
 4 tbsp of Vegetable oil (olive oil works well too)
 Knorr de tomate
First, we're going to cook our protein. The most popular option to use is chicken because you can boil the chicken, shred it and use the left-over broth for your Sopita base. In this recipe, I chose to use ground beef.
 Fully cook the beef with a little bit of oil and season with seasoning of choice. I like to use garlic salt, pepper, and a little bit of fajita seasoning.
 add a little bit of chopped onion and minced garlic for flavor and use minimum seasonings.
 Once the beef is fully cooked set aside to later add to the Sopita.
Next, we're going to start by making the base of the soup. I like to call it (Sopita). Keep in mind that instead of water you can use chicken or vegetable broth.
 Cut up the tomatoes in half so they fit better in the blender and add the onion, garlic, and Chile serrano and blend, blend, blend until you get a slightly thick and saucy consistency.
 Once the base is blended set aside for use once the noodles are ready.
Then, we're going to cook or fideo. In a hot pan with oil, you will fry your noodles with a small piece of onion for flavor. Cooking the noodles in a medium heat setting is perfect but also keep in mind that you don't want to overcook the noodles. You need to constantly stir the noodles while frying to get an even color. The color of the noodles will be slightly golden brown when done.
 Immediately after the noodles are fried add your soup base, and you add the secret ingredient (Knorr de tomate). I don't have measurements for this because I usually just measure with the heart
 Once the soup base and knorr has been added, you can now add the rest of the water, your veggies and lastly your proteins.
 Let the soup boil for 20-25 minutes and it is ready to serve.
 Top your soup with some cilantro (optional but recommended)
Note: you can also top of with some lime juice to add some zest.
I hope you all enjoy this recipe as much as I do. while I am still a picky eater, eating sopita has made eating vegetables so much easier. This recipe is simple, but it is very meaningful.
Once you try it, you will want to eat it almost every day.
© 2023 Latin Times. All rights reserved. Do not reproduce without permission.