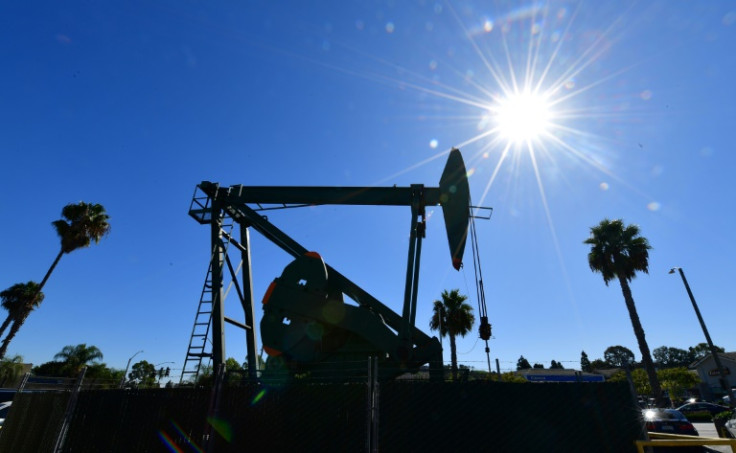 Asian markets fell and oil prices extended gains Friday on worries that an expected ground invasion of Gaza by Israel will spark a wider conflict in the Middle East.
Risk aversion was compounded by Federal Reserve boss Jerome Powell, who indicated a pause in interest rates at the bank's next meeting but left open the prospect of another hike later.
Traders are keeping a fearful eye on developments in the Middle East as Israel presses on with its bombing of Gaza after Hamas militants killed at least 1,400 people in Israel on October 7.
More than 3,700 Palestinians, mainly civilians, have been killed across Gaza in relentless bombardments, while an explosion at a hospital this week -- which each side has blamed the other for -- has ratcheted up tensions.
Iran has warned it could be drawn into the conflict if Israel embarks on a land offensive, fanning fears that the region could be embroiled in a wider conflict, with several observers saying such a scenario is becoming increasingly likely.
In a sign that regional players were becoming involved, the Pentagon said a US Navy ship in the Red Sea on Thursday shot down missiles and drones that had been fired by Iran-backed Huthi rebels in Yemen, possibly at Israel.
The likelihood of a Middle East war has sent oil prices surging and both contracts extended the week's gains Friday, rising almost one percent in Asian trade.
"The risk premium in crude has shot up again," said Vandana Hari, of Vanda Insights.
"As long as the Israel-Hamas tensions run high, crude will remain susceptible to further spikes on signs of an escalation."
Meanwhile, traders are wrestling with the prospect that US interest rates will remain elevated for some time as the Fed battles to contain inflation.
On Thursday, Powell suggested decision-makers would not hike at their next meeting at the end of October but left the door open to more tightening down the line.
News that weekly jobless claims came in lower than expected, suggesting the labour market was tighter than many predicted, dealt a blow to traders' confidence.
"Inflation is still too high, and a few months of good data are only the beginning of what it will take to build confidence that inflation is moving down sustainably toward our goal," Powell told a conference in New York.
Additional evidence of "persistently above-trend growth" or fresh signs of tightness in the labour market "could warrant further tightening of monetary policy".
His comments echoed those of his colleagues on the policy board in recent weeks, with a focus on incoming data.
The yield on the 10-year US Treasury note, seen as a proxy for US interest rates, rose above five percent for the first time since 2007.
That weighed on US markets, with all three main indexes losing between 0.8 and one percent.
And Asia followed suit, with Tokyo, Hong Kong, Shanghai, Singapore, Taipei, Manila and Jakarta all in the red.
Sydney, Seoul and Wellington were all more than one percent lower.
Tokyo - Nikkei 225: DOWN 0.5 percent at 31,266.84 (break)
Hong Kong - Hang Seng Index: DOWN 0.7 percent at 17,174.40
Shanghai - Composite: DOWN 0.4 percent at 2,993.92
Euro/dollar: DOWN at $1.0573 from $1.0583 on Thursday
Pound/dollar: DOWN at $1.2130 from $1.2142
Dollar/yen: UP at 149.87 yen from 149.81 yen
Euro/pound: UP at 87.17 pence from 87.14 pence
West Texas Intermediate: UP 1.0 percent at $89.26 per barrel
Brent North Sea crude: UP 0.8 percent at $92.15 per barrel
New York - Dow: DOWN 0.8 percent at 33,414.17 points (close)
London - FTSE 100: DOWN 1.2 percent at 7,499.53 (close)
© 2023 Latin Times. All rights reserved. Do not reproduce without permission.