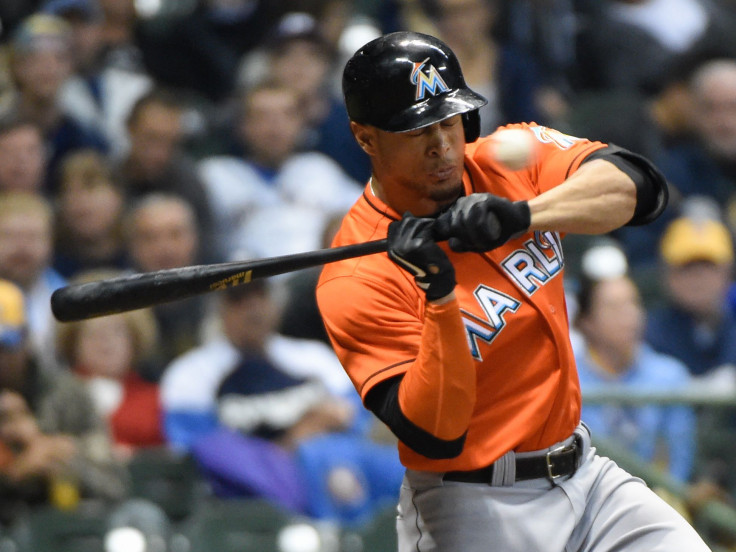 MVP Candidate, Giancarlo Stanton of the Miami Marlins spoke for the first time on Friday after being hit in the face by a fastball last weekend. The pitch, thrown by Milwaukee Brewers pitcher, Mike Fiers, was a 90MPH fastball that hit Stanton right below his left eye. Stanton immediately went down in a heap as blood gushed out of the 24-year-old's mouth.
Stanton suffered numerous facial fractures, broken teeth, stitches, two black eyes and will need facial surgery to repair parts of his face. Needless to say, the injury ended Stanton's season and he has been recuperating in a Florida hospital until today.
"I feel all right," Stanton told the Media. "The swelling is way down, much better than I envisioned. Just got to get the grill fixed and we'll go from there."
"The Grill" Stanton refers to his teeth. Stanton had 5 teeth broken in the accident and will need them either fixed or replaced. In addition to the teeth, doctors say there is still a lot of blood that remains in his nasal cavity and he will need to undergo a procedure to remove it.
"I was checking my mouth, just the blood, mouth full of it and having chunks of teeth floating around." He recalled. "My ears were ringing. I couldn't hear nothing, except the ring."
Stanton also let the media know that he received a text message from Fiers after the incident and that the Brewers pitcher apologized for what happened and claimed it was an accident. As far as whether or not Stanton accepted the apology, that much was still up for debate.
"He said, obviously, it wasn't on purpose. He said how sorry he was. It's been tough to sleep the first few nights and stuff. It was a good message." Stanton said.
The next item up on the agenda for Stanton is to step into the batter's box again, whether it's in a live game or not, reliving the trauma of what happened the last time he was on the box is still psychologically difficult and will be the next step in Stanton's recovery.
"I've wondered about that. I think I'm in a great mental state for what has gone on. But to be able to be back in the box, and in competition, I'm not quite sure. I think we decide the protection that will be on, I'll have more reassurance wearing that. I don't know."
Stanton's season has come to an end, and he will finish the year with a .288 average, with 37 home runs, 105 RBI and 13 stolen bases. He leads the league in home runs, walks, slugging percentage, OPS, total bases and intentional walks.
If you haven't seen it yet, Stanton tweeted a gruesome before and after picture of his face while recovering in the hospital. If you are prone to get queasy, you might not want to scroll down, otherwise, take a look at the graphic photos of Stanton's face below.
© 2023 Latin Times. All rights reserved. Do not reproduce without permission.