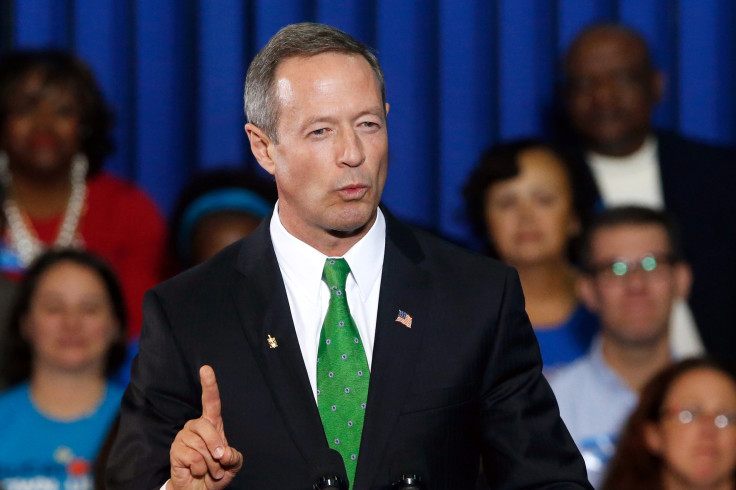 Democratic presidential candidate Martin O'Malley will travel to Puerto Rico on Saturday as his campaign continues to aggressively court Latino voters. O'Malley spokeswoman Gabriela Domenzain stresses that the trip is link in a long chain of "firsts." First declared presidential candidate to visit Puerto Rico; first to support Puerto Rico's bankruptcy bill; first to call for specific changes in Medicare and Medicaid caps that are part of the island's health care collapse. Democratic rivals Sen. Bernie Sanders (I-Vermont) and former Secretary of State Hillary Clinton have since backed some of O'Malley's proposals, including the bankruptcy bill. They're still lagging to the right of him on immigration.
It's not unlikely that other candidates will follow O'Malley to Puerto Rico in the coming months. Hillary Clinton visited as a part of her campaign in 2008. Jeb Bush first went to the island while campaigning for his father, and returned in 2015 shortly before his presidential announcement.
Puerto Rico residents can't vote for president, but the island is an important campaign stop for two reasons. One, it holds around two dozen Democratic Party delegates (that's a few more than Vermont and way less than Florida). Therefore, Puerto Rican votes still count in the primaries. Two, it is a symbolic visit to the home of millions of boricua expat voters. As many as one million Puerto Rican migrants could vote in Florida in the 2016 elections, and in the primaries. It's a perpetual battleground state that could be key in the general election (though in 2012, to the delight of many, the state ended up not making a difference).
Trailblazing on Latino issues hasn't helped O'Malley much so far in the polls. He's still hovering in single digits, even after Latino media embraced his eight-page immigration plan. In a Univision poll taken before that push, 78 percent of Latino voters didn't know who he was, and only 1 percent said they'd vote for him. That might change as his campaigning gets more agressive and his policies get more ambtious. In the words of Latino Rebels, he's "taken the lead" on many Latino issues. Martin O'Malley has said in the past that his winning polls won't be his strategy. Instead, he's going after those delegate votes, one state, one territory at a time.
Before he touches down in San Juan on Saturday, O'Malley will visit Florida on Friday, where he's scheduled to deliver a speech in Miami to National Urban League. He'll also meet with a group of Haitian-Americans who are likely to support his position on Haitian immigrants in the Dominican Republic. On June 17th, O'Malley authored an op-ed calling for the D.R. to not carry out a threat to evict thousands of Haitian migrants whose citizenship was invalidated by a court order. He called the proposed move "an abhorrent affront to human rights." And yes, he was the first to do so.
© 2023 Latin Times. All rights reserved. Do not reproduce without permission.