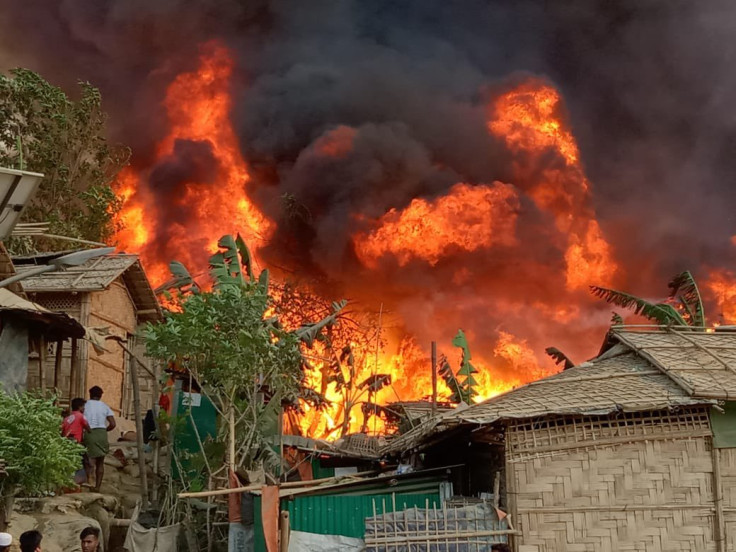 Authorities in Bangladesh are looking into what started a large fire that left 12,000 Rohingya refugees without a place to stay.
There have been no confirmed casualties, but according to officials, the fire on Sunday destroyed 2,000 shelters after rapidly spreading through kitchen gas cylinders.
Authorities are looking into whether the fire was intentionally set. According to local media, one man has been arrested.
The camp in the southeast is thought to be the world's largest refugee camp.
Rohingya refugees who made up the majority of the population had escaped persecution in neighboring Myanmar.
Numerous people visited the Cox's Bazar region again on Monday to see what they could salvage from the wreckage.
An official reported that the fire broke out around 14:45 local time on Sunday (08:45 GMT) and spread rapidly to the bamboo and tarpaulin shelters.
"Some 2,000 shelters have been burnt, leaving about 12,000 forcibly displaced Myanmar nationals shelterless," Mijanur Rahman, Bangladesh's refugee commissioner, told AFP news agency, reports BBC.
Within three hours, the fire was put out, but at least 35 churches and 21 refugee learning centers perished in the process, he added.
Photos that display the magnitude of the destruction are now starting to surface.
Many of the residents can be seen rummaging through the burned area, where all that is left are metal supports and singed corrugated roofing.
Humanitarian organization Save the Children said Sunday's fire was a "ghastly reminder that children stuck in the camps in Cox's Bazar face a bleak future."
"Today's massive fire will have robbed many families of their safety and what little belongings they have left," it said in a statement, adding "they continue to grapple with inadequate education, concerning levels of malnutrition, stunting, child marriage, and child labor," CNN reported.
"My shelter was gutted. [My shop] was also burnt," Mamun Johar, a 30-year-old Rohingya man, told AFP.
"The fire took everything from me, everything."
Given the "mega camp's" already overcrowded circumstances, it will be challenging to relocate the estimated 12,000 fire victims, said Hardin Lang from Refugees International.
Delivering basic services to those people in other parts of the camp would also be a challenge because many services - health clinics and schools - have been destroyed.
"This is in essence an acute incident on what was already a chronically very vulnerable and precariously poised population," Hardin Lang said.
The settlements are prone to fires because they are crowded and filthy.
According to a Bangladeshi defense ministry report published last month, there were 222 fire incidents, including 60 instances of arson, in the Rohingya camps between January 2021 and December 2022.
At least 15 people were murdered and about 50,000 people were forced to flee their homes in March 2021 after a massive fire ravaged a camp inside the settlement.
People living in the camp are refugees who left Myanmar after the military cracked down on the Rohingya ethnic group.
After escaping the Myanmar military's brutal campaign of killing and arson, an estimated 1 million members of the stateless Muslim group known as the Rohingya now reside in what many consider to be one of the largest refugee camps in the world.
© 2023 Latin Times. All rights reserved. Do not reproduce without permission.