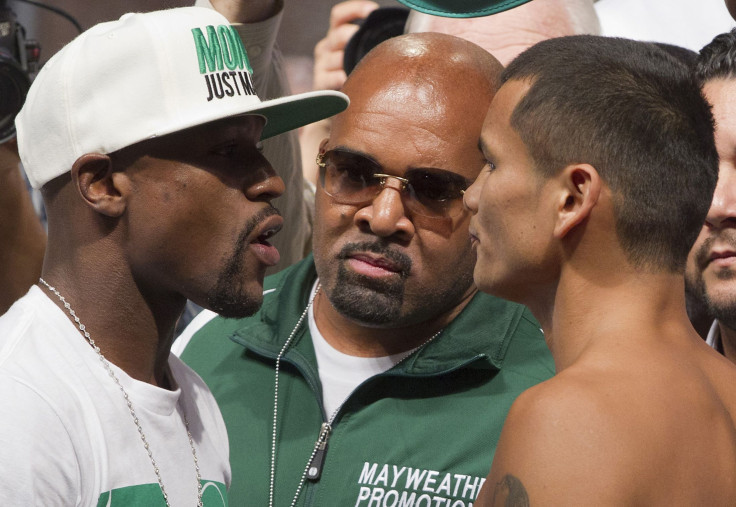 Just four short months ago the boxing world was stunned when the impossible almost happened. Undefeated pound-for-pound champion Floyd "Money" Mayweather was getting beat through six rounds against relatively unknown Argentine fighter, Marcos "El Chino" Maidana. Maidana was fearless against Mayweather during the first half of that first bout, coming at Mayweather over and over again, cornering him against the ropes and roughing him up unflinchingly.
Maidana's effort was not enough however, as the Argentine became winded down the stretch losing nearly all of the final six rounds, to give Mayweather the decision. The fight was so entertaining the first time around, that Mayweather and his promotional team did something they have rarely done in his illustrious 18-year career, they agreed to a rematch.
Mayweather and Maidana will get in the ring on Saturday, September 13th in what is sure to be a must-see event. Many experts are wondering if Maidana has the stamina to go the distance this time around, or whether Mayweather will make the necessary adjustments ensuring the rematch is a walk in the park. In any event, it begs the question, "what will be different the second time around?"
For one thing, Maidana will be different. It was widely reported that "El Chino" had weight issues before the first fight. Just weeks before the bout in May with Floyd, Maidana was home with his wife in Argentina as she was giving birth to their child. Maidana returned to Las Vegas just over four weeks before the fight needing to lose an incredible amount of weight in order to get down to the 146.5 pounds he was at the weigh in. Overnight however, Maidana ballooned back up to 164 pounds and noticeably was fatigued in the later rounds of the bout.
"I came out strong the first sex or seven rounds, and after that I had to take a break and catch my breah a little bit. I had to pace myself. I have to not get as anxious for this fight." Said Maidana in his pre –fight press conference on Thursday.
The second time around, Maidana has lost the weight properly, through training and diet. For this fight, he arrived in Oxnard, CA nine weeks before the bout and has spent his time working on his endurance while losing the necessary weight to make it back to the 146 pounds he was at weigh in on Friday.
Maidana will look to conserve his energy for the later rounds against Mayweather. He knows the success he had in the first six rounds in the last fight, and if he continues that throughout the fight, and is able to engulf Mayweather in the ring and keep him against the ropes amidst relentless pressure, than he will win the fight and knock out "Money" in the 10th round.
But, he won't. Mayweather simply won't allow it to happen. In their first fight, Mayweather told the media leading up to the fight that he would go toe to toe with Maidana, and he did, almost to his own detriment. Mayweather's strength has never been his punching power or ability to go toe to toe with his opponent. It has always been his defense and counter punching ability. Mayweather's intellect in the ring is second to none, and he proved it in the first fight with Maidana. He will do it again on Saturday.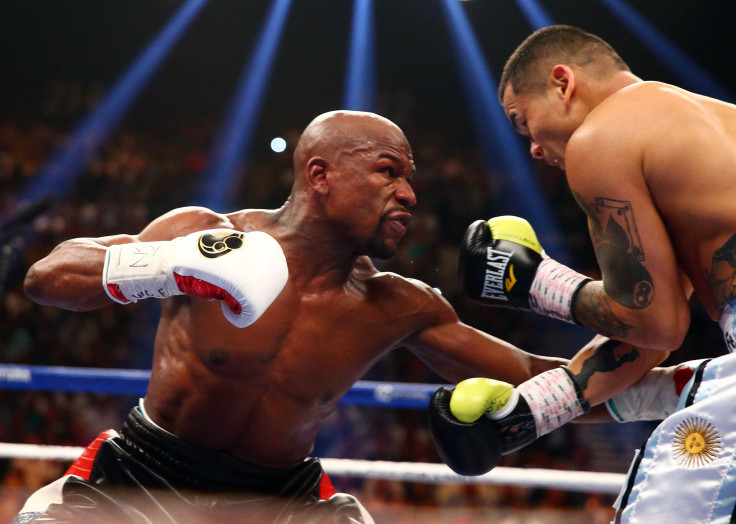 Mayweather has told the media in the pre-fight hype leading up to this fight that he needs to go out there on Saturday and be "Floyd Mayweather." No talk this time of standing toe to toe, or putting on a show for the fans, just vintage Mayweather defense and counter punching. Maidana is a very one dimensional fighter, he comes at you and throws a bevy of punches hoping to connect with as many as he can. He wants you to stand toe to toe with him and see if you can survive the onslaught. Even if his endurance is better this time around, and he is able to sustain the pace into the later rounds, will Mayweather give him the space and opportunities he needs to win the fight? Doubtful.
Rematches in any sport are all about which side can make the better adjustments. Mayweather has always been the best in this category especially within a fight. Now that he's seen Maidana up close and personal and knows he can challenge him, he will stay back on his heels and rely on his defense. More than likely he will focus heavily on the body of "El Chino," knowing that a shot to the midsection is what knocked Maidana out in his fight with Amir Khan four years ago.
Mayweather will take rounds off has he is prone to do, but in this fight he knows he needs a dominant win to silence the critics (and the one judge), who believed Maidana won the first fight. Mayweather should cruise easily to a victory by unanimous decision on Saturday and retain his WBA and WBC title belts.
Join us tommorrow at 8:00PM EST, as we live blog the Mayweather Vs. Maidana 2 Fight, we will also be tweeting round by round updates throughout the match. @thelatintimes
My Prediction: Floyd "Money" Mayweather will win in 12 Round by unanimous decision.
Betting Odds Courtesy of Bovada.lv:

Floyd "Money" Mayweather Jr: -800 Moneyline
Maros Rene "El Chino" Maidana: +500 Moneyline
© 2023 Latin Times. All rights reserved. Do not reproduce without permission.