Latin Times will bring you live round-by-round coverage of the Floyd "Money" Mayweather vs. Manny "Pacman" Pacquiao fight on Sautrday, May 2, 2015.
The welterwight unification bout is set to start at 11:00PM EST in what is certainly going to be one of the more exciting and entertaining fights you'll ever see. If you can't get to a TV, join us here for full fight coverage of the bout.
Both fighters are in the ring. Pacuqiao came out accopamined by Jimmy Kimmel and Mayweather with Justin Beiber and the Burger King mascot "The King." Michael Buffer has made the announcment: "Let's get ready to ruuuuuuumble!" We are about to get underway!
Main Event: Floyd Mayweather vs. Manny Pacquiao WBO Unification Fight
Round 1:
Both fighters are feeling each other out. Mayweather is not running, but Mayweather is controlling the fight as he held Mayweather off with his jab. Mayweather lands two big right hand shots and takes round 1. Mayweather wins round 1. 10-9 Mayweather
Round 2:
The tempo and pace of the fight is clear. Mayweather is backtracking, keeping his distance with the jab, countering with a straight right (the same one that knocked Pacquiao out aginst Marquez) and he's also tying Pacquiao up when he gets in trouble. Second round was pretty even. Pacqiao was the agressor. We give it to him. Pacquiao wins round 2. 10-9 Pacquiao
Round 3:
Mayweather is making this a very boring fight. Through three rounds, all Mayweather is doing is backtracking, and tying Pacquiao up when he gets in trouble. He is throwing less punches, but when he does they land. The crowd is booing as Mayweather is being typical Mayweather. He takes round three. 10-9 Mayweather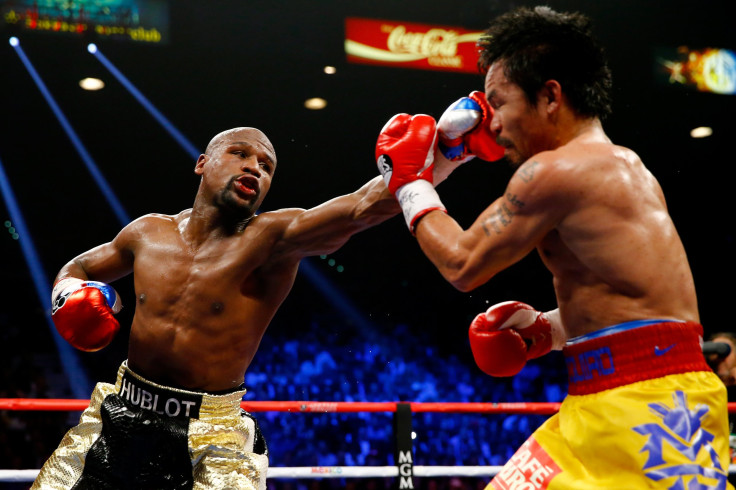 Round 4:
Pacquiao starts the round off well. He's definitely the agressor in this fight and hopefully the judges take that into consideration in the end. However, Mayweather is still playing conservative and defensive. He's back tracking and on his heels and playing defense. Pacquiao gets on the board with a flurry of punches. Seemed like Mayweather took the round off. 10-9 Pacquiao
Round 5:
Mayweather lands a few rights and seizes command of the fight and the round. The straight right counter-punch by Mayweather is going to win this fight. A lot of choke holds and ties up by Mayweather late in the round. Mayweather wins the round and is in control. 10-9 Mayweather.
Round 6:
Mayweather has landed a lot more punches and is still dominating this fight. He shakes his head at Paquiao and says "nope." Mayweather is cocky and arrogant and telling Pacquiao you are not hurting me. He's letting Pacquiao expand all the energy. I give the round to Pacquiao, but this still looks like Mayweather's fight. 10-9 Pacquiao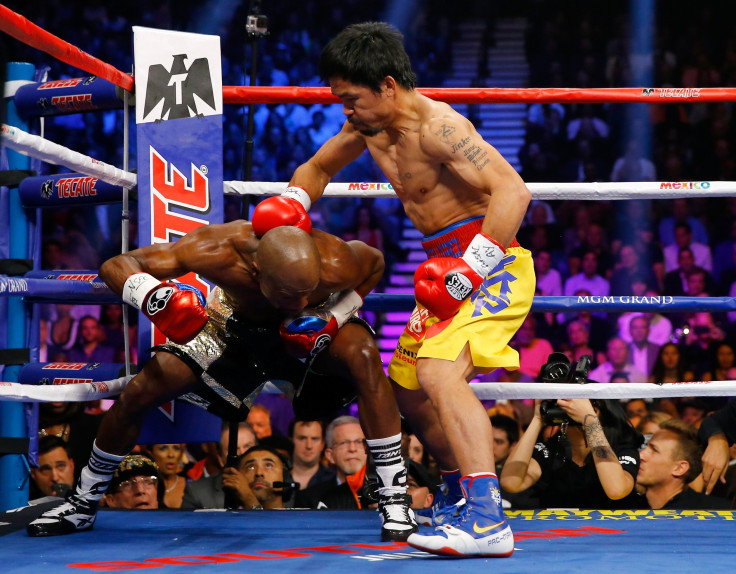 Round 7:
Halfway through the fight and thus far, it is not leading up to the hype. You can thank Floyd Mayweather for that. Pacquiao is the agressor. Mayweather is using his defense, spacing and jab to control this fight. Pacquiao lands a hard left, but still is behind. Not sure how to score this round, it's a toss up. We give it Money. 10-9 Mayweather
Round 8:
Once again the common theme of Pacquiao charging and Mayweather backtracking is clear. It's getting repetitive. The crowd chants "Manny! Manny! Manny!" Pacquiao is throwing countless more punches, but Mayweather is landing more and at a higher percent. Mayweather lands a hard right and wins the round. 10-9 Mayweather
Round 9:
Guess what happened this round? Pacquiao chased Mayweather around the ring as the aggressor and tried to land punches. Mayweather used his jab to create space, counters with a straight right and ties up Pacquiao when he gets in trouble. 10-9 Mayweather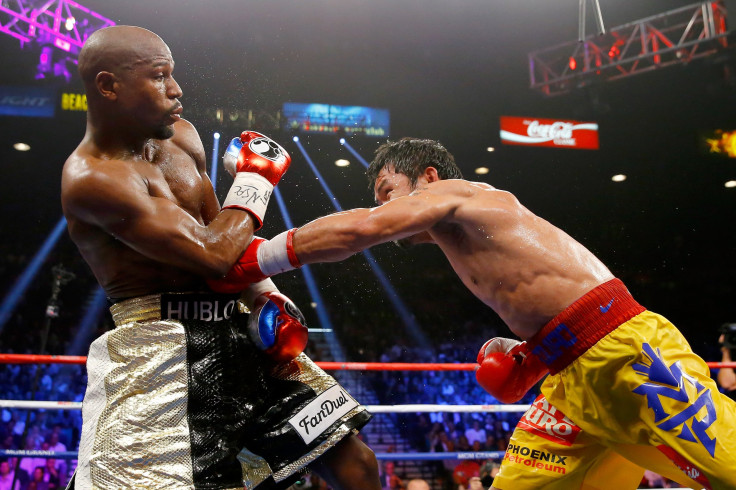 Round 10:
Everything about this fight is typical of a Mayweather fight. Pacquiao is landing punches at only 18 percent (average for a Mayweather opponent). Mayweather is well ahead. It's been a boring fight thus far, but Mayweather is winning it with his jab and straight right. 10-9 Mayweather
Round 11:
With only one round left, we are starting to agree with everyone that this fight needed to happen five years ago in order for Manny Pacquiao to win. Pacquiao is slower, he's losing, like most Mayweather opponents, he has no idea what to do against him. 10-9 Mayweather
Round 12:
Pacquiao needs a knockout to win and Mayweather knows it, so he's sitting waiting to land the straight right counter-punch. A disappointing fight if you're a Pacquiao fan or if you wanted a knockout or action. Pacquio gets the last round for trying to be aggressive, but this baby is over. Mayweather should win the fight. 10-9 Pacquiao
Our Scorecard: 117 -111 Floyd Mayweather
Official Scorecard
Dave Moretti: 118-110
Burt A. Clements: 116-112
Glenn Feldman: 116-112
Unanimous decision for Floyd Mayweather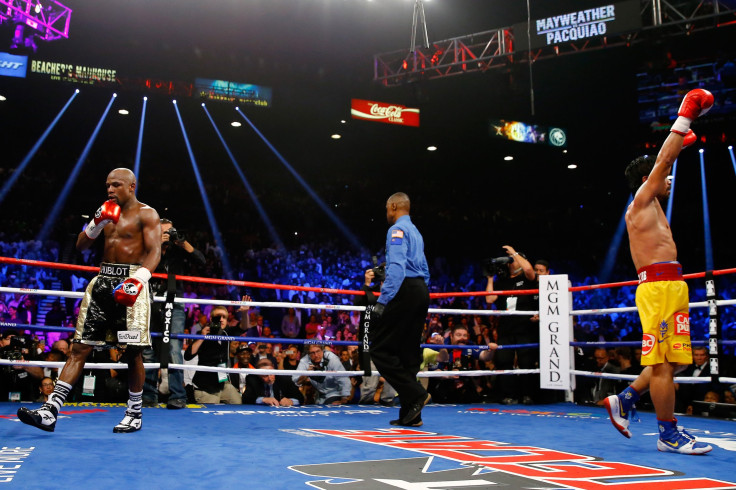 © 2023 Latin Times. All rights reserved. Do not reproduce without permission.