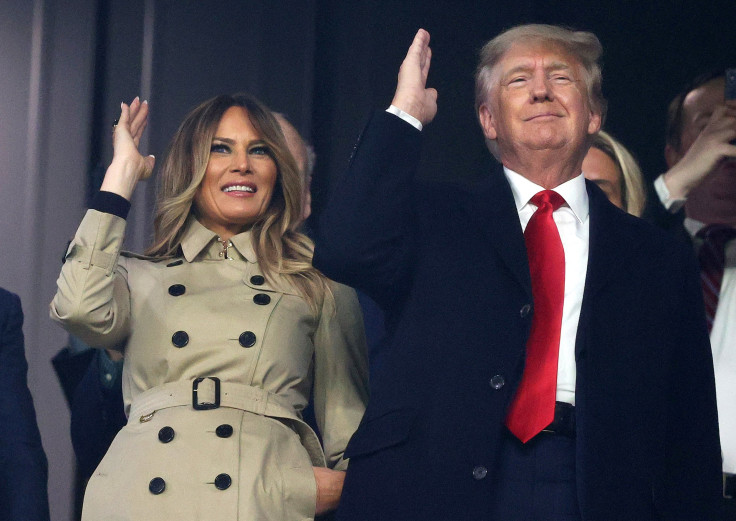 Former First Lady Melania Trump finally broke her silence after her husband Donald Trump's indictment.
She wishes her Twitter followers Happy Easter and also posted a photo of a pink rose.
This was the first time that she has posted something online since her husband got indicted in a hush money payment case involving porn star Stormy Daniels.
Last week, the former First Lady was even absent from her husband's post-arraignment speech in Florida.
On Tuesday night at Mar-a-Lago, Trump made his first public comments just hours after becoming the first President in U.S. history to be arraigned on criminal charges, reported New York Post.
The former President had told around 400 supporters that he had a "great family and they've done a fantastic job and we appreciate it very much.'
He praised his sons Donald Jr., Eric, Barron and daughter Ivanka, but his wife was not singled out.
But his father-in-law was front and center at Mar-a-Lago for former Trump's speech even though Melania was not seen anywhere.
During the primetime address in Florida, Melania's dad Viktor Knavs stood between Eric and his wife, Lara, and Donald Jr. and his fiancée, Kimberly Guilfoyle.
Last week, the former President pleaded not guilty to 34 felony counts of falsifying business documents. They were related to alleged hush money payments that were made to Daniels. There was also a "catch and kill" reporting scheme involving another purported Trump mistress Karen McDougal in a case that was brought by Manhattan District Attorney Alvin Bragg.
Meanwhile, Melania was spotted for the first time since her husband's arrest. She was seen enjoying an Easter brunch with Trump on Sunday at his Mar-a-Lago club, reported New York Post.
She and her 76-year-old husband were caught on camera walking together inside a ballroom to a standing ovation from a crowd. The couple was seen sitting alone together as they enjoyed the holiday meal.
It marked a return to normal for the couple, who have typically been clicked together for Easter brunch in the past.
While Trump was wearing his usual suit and tie, his 52-year-old wife sported a white top with a purple floral pattern.
The two could be seen talking as Melania leaned in a few times to speak with him.
© 2023 Latin Times. All rights reserved. Do not reproduce without permission.