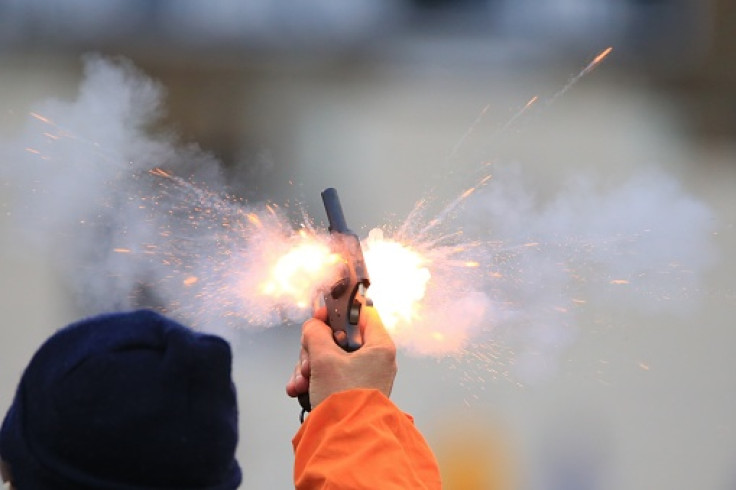 Authorities reported that among the individuals shot and injured during the incident near a crowded Florida beach on Memorial Day were four children, including a 1-year-old.
According to both the police and an eyewitness, the gunfire broke out following an altercation between two groups of men on the Hollywood Beach Broadwalk.
Jamie Ward, who was present on the Broadwalk at the time, stated that several men were engaged in a physical confrontation in front of a line of stores when one of them retrieved a gun and discharged it.
Hollywood police stated that some of the victims were caught in the crossfire during the incident.
Initially, law enforcement reported that one individual was in custody and another suspect was being pursued. However, in a subsequent press conference, the Hollywood police announced their intention to release photographs of individuals they believe were connected to the shooting.
As the investigation is still in its early stages, the authorities did not disclose the number of gunmen involved.
During the follow-up press conference, which was broadcast by NBC 6, Hollywood Police spokesperson Deanna Bettineschi stated that the four minors who were shot ranged in age from 1 to 17 years old.
Additionally, Bettineschi mentioned that the five adult victims' ages ranged from 25 to 65 years old.
According to authorities, eight of the nine victims—including the 1-year-old—are in stable condition, while one victim is undergoing surgery.
Around 6:45 p.m., reports of gunfire prompted police officers and emergency personnel to start providing help to the wounded.
"People enjoy a holiday weekend on the beach with their families and to have people in complete reckless disregard of the safety of the public and to have an altercation with guns in a public setting with thousands of people around them is beyond reckless," Hollywood Mayor Josh Levy said, thanking first responders and good Samaritans for helping wounded victims.
The incident caused panic and chaos among those present on the Hollywood Beach Broadwalk, as captured in alarming footage of the scene, New York Post reported.
People were observed hurriedly running away or seeking shelter, while a woman was seen protecting a young girl who had taken cover on the ground.
Another video footage depicted a distressing scene where first responders attended to the wounded victims on the beach.
The Hollywood police urged the public to stay away from the area while they conducted their investigation, and they mentioned that a designated reunification point had been established at Johnson Street and the North Ocean bus loop.
Authorities also appealed to the public for any videos or photos related to the incident.
Located approximately 11 miles south of Fort Lauderdale and 20 miles north of Miami, Hollywood Beach is a popular destination that experienced higher-than-usual footfall on Memorial Day.
Chief Chris O'Brien strongly criticized "a group of criminals" for disrupting what was meant to be a peaceful beach day for law-abiding visitors, expressing determination during the press conference to exhaust all efforts in the investigation and ensure no leads were overlooked.
© 2023 Latin Times. All rights reserved. Do not reproduce without permission.