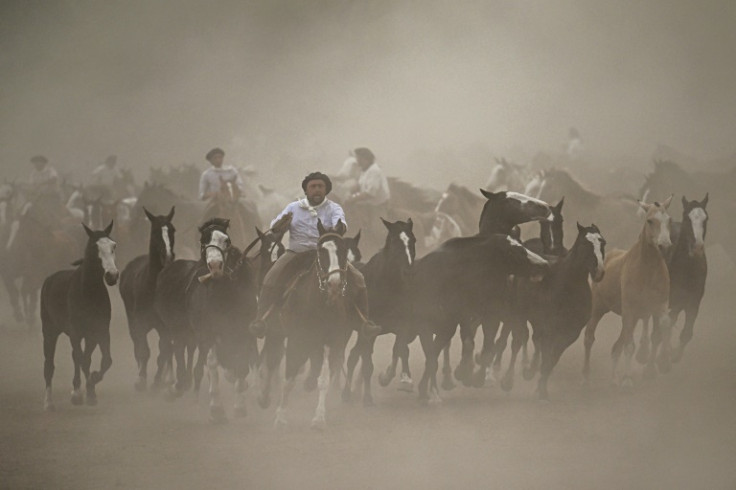 Argentina, which holds a presidential runoff on Sunday, was one of the world's richest countries a century ago.
But repeated economic crises have tipped four out of 10 Argentines into poverty.
Here are five things to know about Latin America's third-largest economy:
A slew of Argentines have risen to international fame and influence.
Pope Francis, who became the first Latin American head of the world's 1.3 billion Catholics in 2013, was born Jorge Mario Bergoglio in Buenos Aires.
The so-called "people's pope" briefly worked as a nightclub bouncer before becoming a Jesuit priest and later Archbishop of Buenos Aires.
One of the world's greatest footballers, the late Diego Maradona, also came from Buenos Aires.
The flamboyant striker, whose infamous "hand of God" goal against England helped Argentina to World Cup victory in 1986, was idolized in his homeland.
Another legendary Argentine number 10 is former Barcelona and Paris Saint-Germain superstar Lionel Messi.
The shy Rosario native, who left Argentina for Spain at the age of 13, struggled to win the affection of his compatriots for most of his career until 2022, when he led the country to its third World Cup title.
Outside of football and the Vatican, Argentina is also home to five Nobel winners, and literary greats Jorge Luis Borges, Ernesto Sabato and Julio Cortazar.
Argentina's politics have been dominated by the center-left Peronism movement for much of its post-war history, with two charismatic women becoming symbols of its interventionist and at-times populist bent.
Eva Peron, the actress wife of former president Juan Domingo Peron (1946 to 1955 and 1973-74), remains a legend on the Argentine left for fighting for women's and worker's rights before her premature death from cancer at the age of 33.
Cristina Kirchner is one half of another power couple, having led the country with her late Peronist husband Nestor Kirchner for a combined 12 years (2003-2007 for him and 2007-2015 for her). She inspires similar levels of adulation on the left -- and contempt on the right.
Kirchner is seen as a hero by her working-class base for standing up for the little guy, and by her detractors as a corrupt interventionist who dragged the country back into ruin through overspending.
Double-digit inflation is the norm in debt-ridden Argentina, but this year, annual inflation breached 100 percent for the first time in three decades, leaving more and more people struggling to make ends meet.
As the country slips deeper into crisis, people still traumatized by the country's 2001 economic meltdown are dumping their Argentine pesos for dollars in droves.
That year, hundreds of thousands of people lost part or all of their savings after the authorities froze bank deposits, prompting protests and looting that ended with 40 dead and the government defaulting on around $100 billion of debt in the biggest default in history.
Argentina, the world's fourth-biggest beef exporter, has more cattle than people.
But consumers in one of the most carnivorous nations on earth are struggling to put beef on their plates due to soaring prices.
The belt-tightening is taking a toll on the time-honored family "asado," or barbecue -- a meat feast traditionally bursting with prime cuts that is becoming a rarer indulgence.
Argentina's culinary prowess doesn't stop there.
The country is also known for its excellent Malbec wine, and the bitter herbal tea called mate, sipped from a leather gourd with a metal straw (bombilla). Argentines will often gather in groups to share the elaborate ritual of preparing and passing around the drink.
Argentina's 1976-1983 dictatorship was one of the most brutal of the slew of military regimes that sowed terror in Latin America between the 1960s and 1980s.
An estimated 30,000 people were killed or disappeared, some tossed out of planes into the Rio de la Plata or the Atlantic Ocean, in the military's so-called "dirty war" on left-wing activists and sympathizers.
More than 1,000 people have been sentenced for crimes against humanity since 2006, when prosecutions of figures in the dictatorship resumed after a decade of controversial amnesties.
© 2023 Latin Times. All rights reserved. Do not reproduce without permission.