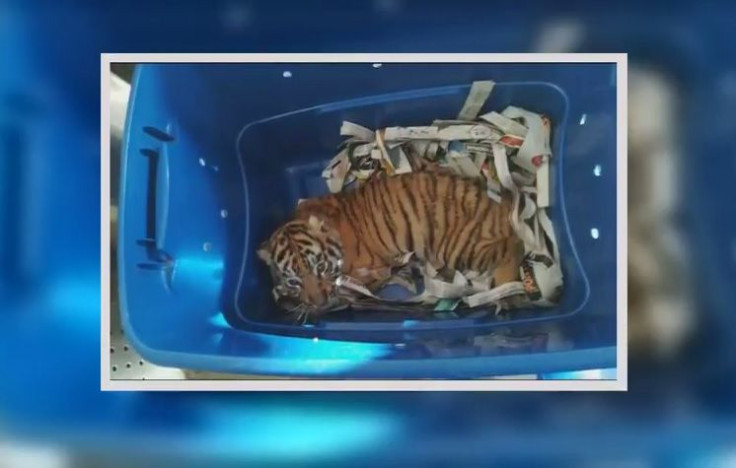 Authorities from Tlaquepaque, Jalisco, a western state in Mexico, rescued a two-month-old bengal tiger cub, that was intended to be shipped inside a blue plastic box full of newspapers, no food or water and completely sedated, according to CNN.
Reportedly, officials became aware of the exotic and endangered animal when they heard noises coming from inside the box. One of the sniffing dogs assigned to Federal Forces duty gave the sign and confirmed that something inside the perforated container with secured lid, was alive.
Immediately, the forces informed the Public Prosecutor's Office and the Federal Attorney's Office for Environmental Protection. Telesur reported that the cub was intended to be shipped to Queretaro from the Nueva Central de Autobuses, and is currently in the custody of the Department of Natural Resources and Environment.
This is not the first time the Department of Natural Resources and Environment seize cubs in Mexico. In 2017, several white tigers, and a black bear were rescued. According to El Siglo de Torreon, Mexico's biodiversity is very rich, and hundreds of endangered species live in the country.
In May of 2017, Hollywood actor Leonardo DiCaprio raised his voice and demanded to the president of Mexico, Enrique Peña Nieto, to put an end to the illegal fishing that is being practiced in the Gulf of California. As an environmental activist, DiCaprio is supporting the critically endangered vaquita, the world's smallest porpoise. The mammal is captured and illegally smuggled over the US border and then shipped to China where it can sell up to USD $8,500 per kilogram in the black market to use it in Chinese medicine, according to the World Wildlife Fund.
© 2023 Latin Times. All rights reserved. Do not reproduce without permission.