Authorities arrested the wife of drug lord Joaquin 'El Chapo' Guzmán Loera in suburban Washington, D.C. airport on Monday for her supposed involvement in drug trafficking.
Emma Coronel Aispuro, a 31-year-old wife of the infamous leader of a Mexican drug trafficking organization known as the Sinaloa cartel, is set to make her first federal court appearance in Washington through a video conference.
According to court documents, Coronel Aispuro is charged with conspiracy involving one or more kilograms of heroin, five or more kilograms of cocaine, 1,000 or more kilograms of marijuana and 500 or more grams of methamphetamine for illegal importation into the U.S.
Coronel Aispuro is also accused of having participated in her husband's escape from a Mexican jail in 2015. Fox News said she is also accused of planning another escape before Guzmán's extradition to the United States in 2017.
New York City defense lawyer Jeffrey Lichtman, who was one of Guzmán's attorneys during the trial, announced Monday that he is defending the accused druglord's wife. He refused to comment on the issue.
Prosecutors say that Aispuro was aware of her husband's position as the head of the violent Sinaloa cartel and acted as his go-between to facilitate his drug trafficking activity. Furthermore, when El Chapo was hiding out from Mexican police, his wife reportedly "relayed messages" on his behalf.
Federal prosecutors claimed in the court document said that Aispuro grew up with experience in the drug trafficking business and married El Chapo when she was a teenager.
"Coronel understood the scope of the Sinaloa Cartel's drug trafficking; Coronel knows and understands the Sinaloa Cartel is the most prolific cartel in Mexico," according to a USA Today report.
According to an arrest affidavit, Aispuro reportedly transferred messages on his behalf between 2012 and 2014 to further his cocaine trafficking activities.
In February 2014, after jail trips, Aispuro reportedly tried to carry on texts she received from him. In his 2015 jailbreak into an underground tube, the prosecutors have pinned to Aispuro allegations that she helped.
A famous New York City defense lawyer, Jeffrey Lichtman, announced Monday that he is defending Aispuro. At El Chapo's trial, he was also involved. He did not elaborate on Aispuro's situation anymore.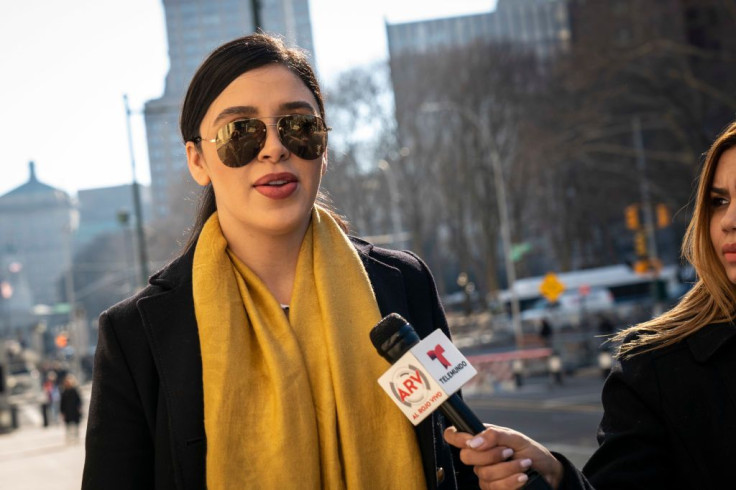 © 2023 Latin Times. All rights reserved. Do not reproduce without permission.