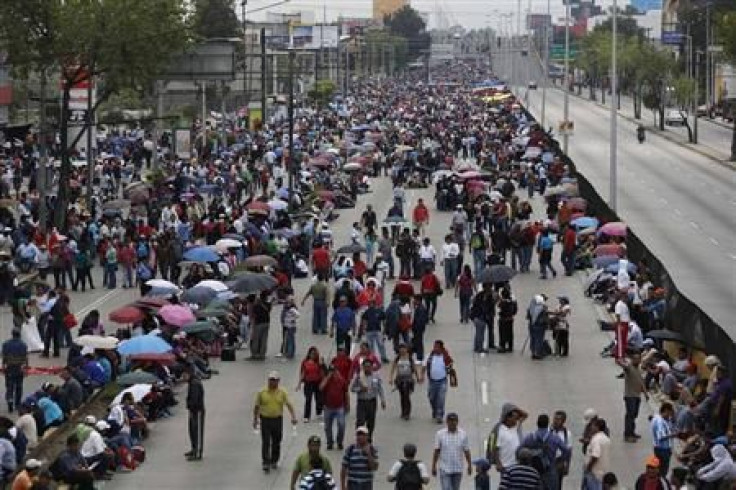 In the first state-of-the-union address since he took office in December 2012, Mexican President Enrique Peña Nieto continued to champion a plan for education reform which has stirred thousands of teachers' union members from across Mexico into a wave of protests in the capital. "Resistance is a natural consequence when you are pushing a transformation," he said from his residence, Los Pinos, to which he had been relegated after striking teachers mobbed the plaza around the National Palace, where the address is normally delivered. Praising legislators in Mexico's lower chamber for passing a bill specifying some of the ways in which the broader reform - which has already been passed - should be enacted, Peña Nieto couched the battle as one for the country's future.
"Our dilemma had been whether to continue to stagnate or to allow the state to recover the leadership and transform and improve the quality of education," he said. Out of the 34 member countries of the Organization for Economic Cooperation and Development (OECD), a group of relatively economically developed nations, Mexico spends the greatest proportion of its budget on education and ranks last on standardized test scores. Peña Nieto and his Institutional Revolutionary Party (PRI) take this as evidence that it's in need of change; their plan for reform, among other things, would effectively put educational content and schools' effectiveness in teaching that content under the control of the state by requiring teachers to take examinations to be hired and be evaluated periodically while on the job.
But many of the members of the two leftist teachers' unions responsible for the protests, the National Education Syndicate (SNTE) and the National Educational Workers' Union (CNTE), oppose the involvement of the Mexican state in the question of what is taught to the country's children. In a video distributed by the CNTE entitled "Why are the teachers protesting?", one union member laments, "Questions which for us were basic are being left aside. Before, we studied Marxism starting in high school. Not anymore. There's a lot of spaces which have been taken from us. Before we had logic and set theory in the field of mathematics and now it's nowhere to be found. So a lot of the areas of knowledge which helped us reason in an orderly, organized way are being taken from us. Why? Because they need for the kids who come out to be experts in English and technology, because that's what the big factories need."
For the reform to be put into effect, the latest bill needs to be approved by the Senate. According to the Associated Press, the protesting union members who had earlier blocked lawmakers' entry into the upper chamber were still occupying the main plaza in Mexico City.
RELATED: Can The Mexican Left Block A Reform Of Pemex?
© 2023 Latin Times. All rights reserved. Do not reproduce without permission.