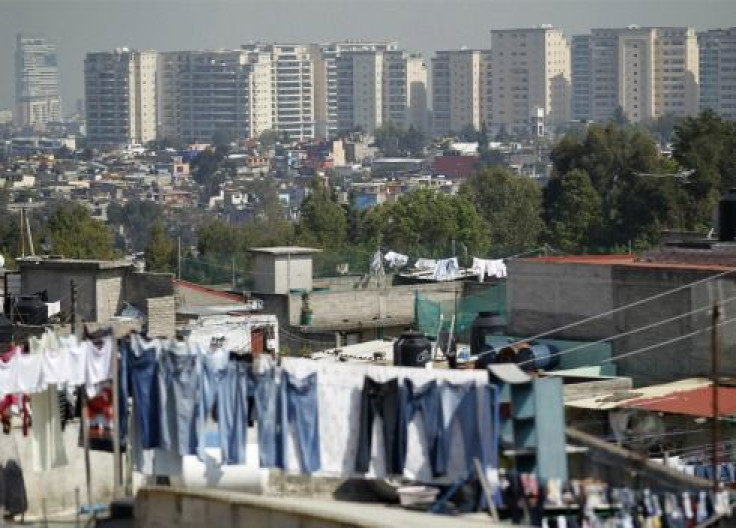 A new study from Mexican government social development agency Coneval said that the ranks of Mexico's poor grew by half a million people between 2010 and 2012, even as the overall poverty rate fell. 53.3 million Mexicans now live in poverty -- 45.5 percent of the country's population -- after a 0.6 percent decrease in the rate over those three years. Another 40.7 million are considered "vulnerable" either because of meager incomes or lack of basic services for health, education, housing or social security.
For the purposes of the study, the agency defined poverty as living on more than 2,329 pesos ($183) per month for residents of cities, and 1,490 pesos ($117) per month in rural areas. Those who lived off of 1,125 pesos ($88) in urban areas or 800 pesos ($62) a month in the countryside were categorized as living in "extreme poverty." The study found that 11.5 million Mexicans were at that level -- 9.8 percent of the population.
RELATED: Mexico's 'Queen Of The Pacific' Gets 70 Months In US Court But May Soon Go Free
The four poorest states were all located in the country's south and southeast, historically the most impoverished region: Chiapas had 74 percent poverty rates, Guerrero 69 percent, Puebla 64 percent and Oaxaca 61 percent. These numbers don't correspond, as one might assume, with higher rates of outbound migration. Of these four, Puebla is the only historically big sender of migrants to the United States, though since 2000, more Oaxacans have increasingly made tracks north as well. Chiapas is among the states with the lowest levels of migration.
RELATED: Deportation Of Unaccompanied Minors By US Border Patrol Over 13,000 In 2012, Says Mexico
Coneval reported a big improvement in one measure of well-being: basic health services. In 2010, 29.2 percent of the country suffered from a lack of health services -- 33.5 million people in all -- compared to 21.5 percent (some 25.3 million people) in 2012.
RELATED: US To Resume Flying Deportees To Mexico City; What Did They Do With Them Before?
That year marked the end of Mexican President Felipe Calderon's six years in office, during which poverty rose by nearly 3 percent. Current Mexican President Enrique Peña Nieto, who stepped in at the tail end of the period, has vowed to bring jobs to Mexico's poorest areas. His administration is betting that a sweeping series of liberalizing reforms can help the country's economy take off. He has set a goal of 6 percent annual growth by 2018.
In a press conference held after the government agency published its data, finance minister Luis Videgaray told reporters, "The only feasible, permanent answer to reducing poverty in Mexico is through economic growth."
© 2023 Latin Times. All rights reserved. Do not reproduce without permission.