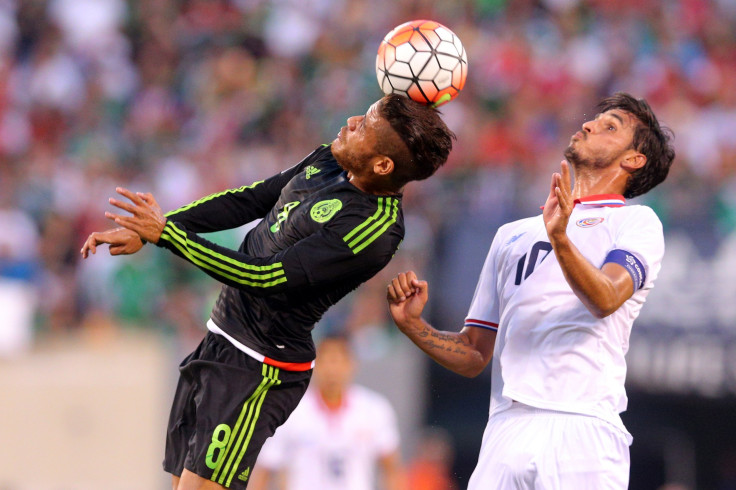 NEW JERSEY – After over 120 minutes of action, Costa Rica's hopes of advancing to the semifinals of the Gold Cup were crushed on Sunday.
Roy Miller was called for a push to the back of Oribe Peralta in the 123rd minute, and Mexico was awarded a penalty kick that captain Andrés Guardado converted and El Tri defeated Costa Rica 1-0 in controversial fashion.
The "phantom call" was made in stoppage time after 90 minutes of regulation, and two, 15-minute extra time periods yielded no goals by either side. Mexico was on the brink of not scoring a goal in Gold Cup play for the first time in their last 32 matches, and Costa Rica was about to take it to penalty kicks.
As many expected, both teams were evenly matched as possession was equally shared throughout the game. Fouls and corners were nearly identical as were the amount of yellow cards each time was shown.
One difference however was in the second half when Mexico's attack finally started to get deep into the Costa Rican zone. After a first half filled with multiple offsides calls against Mexico, El Tri was able to penetrate better in the latter half of the match, attempting multiple shots including BLANK on goal.
Joel Campbell started for Costa Rica after missing the final match of Group play earlier in the week. Los Ticos captain, Bryan Ruiz started, but was substituted in the 79th minute for an extra defender in Roy Miller as Costa Rica tried to stop Mexico's offense and prepare for extra time.
Giovani dos Santos was unable to play for Mexico, and received multiple treatments on his injured left thigh throughout the game. Carlos Vela and Oribe Peralta started up front for El Tri, as Mexico started an extra defender, with five on the back after they allowed four goals to Trinidad and Tobago last game.
Yasser Corona was carried off the pitch on a stretcher after what appeared to be a serious leg injury in stoppage time. He was replaced by Oswaldo Alanis on defense, Mexico's third and final substitution of the game.
Costa Rica deserved to take the game to penalty kicks with the opportunity to advance to the semifinals, but in the end, the referee's decision denied Costa Rica that chance, as they were cheated out of the chance to go to PKs.
In the end, Mexico advances thanks to Guardado and will face Panama in the semifinals later this week.
Please refresh this page for more updates, stats and player reactions…
© 2023 Latin Times. All rights reserved. Do not reproduce without permission.