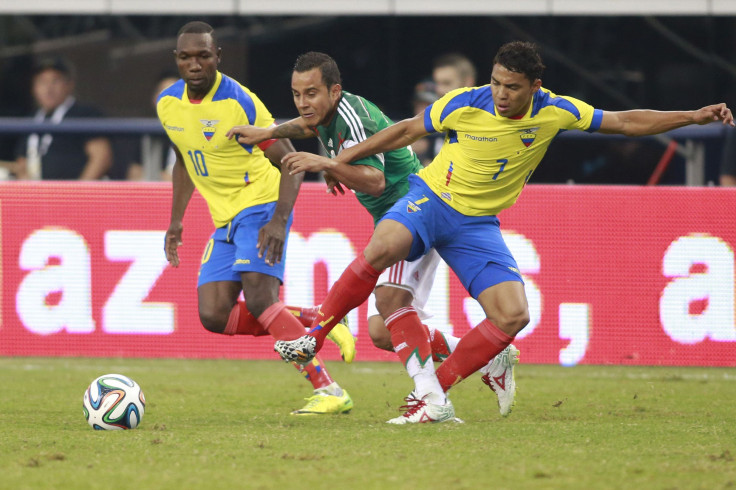 El Tri travels to sunny Southern California on Saturday night for an international friendly match with Ecuador. Both teams are coming off appearances in the 2014 World Cup in Brazil. Ecuador did not make it out of group play, and Mexico famously lost in the round of 16 after surrendering two goals in the final eight minutes of play, the second one courtesy of Arjen Robben and the "no era penal" mantra heard round the world.
Ecuador comes into the match in the midst of major transitions with the national team. Gustavo Quinteros was just named the next manager of La Tricolor after spending three seasons as the head coach of the Ecuadorian club team, Emelec. Quinteros won two Serie A championships with Emelec, and will make his national team coaching debut on Saturday.
The matchup pits El Tri vs. La Tri in a battle for Latin American supremacy. Mexico is expected to start most of their starting XI that was featured in their 2014 World Cup run. For the first time since Brazil, Mexico's manager Miguel Herrera will have all his European players back. Hector Herrera, Paul Aguilar and Miguel Layun will be in the back with Javier "Chicharito" Hernandez and Giovani dos Santos up front. One surprise will be the return of Jesus Corona in net over Guillermo "Memo" Ochoa. Missing from the match will be captain, Rafa Marquez and Francisco Rodriguez who are out with injuries.
Ecuador will be without their star player, Enner Valencia, who was injured two weeks ago in a freak accident. Valencia accidentally walked on top of a broken teacup that cut his toe so severely, he has been unable to play or practice since. It will be Ecuador's first match against Mexico since May of 2014 when El Tri's, Luis Montes suffered a gruesome injury that broke his tibia just before the World Cup.
Without Valencia, coach Quinteros and Ecuador will need all the help they can get to defeat a reunited Mexico squad. Help could come in the form of Fidel Martinez, a player most of Mexico is familiar with as he plays for Leones Negros in Liga MX. Martinez has a speed, strength and a strong aerial game that could give Mexico trouble if they're not careful. More than likely, Quinteros will be experimenting with his roster and formations in his first full game as coach. Mexico on the other hand has now played together under Miguel Herrera's tutelage for over a year and has found their form as of late. El Tri should have no problem winning this one in front of nearly 100,000 supporters.
Prediction: 1-0 Mexico
Betting Favorite: Mexico - ½ (-110 Moneyline)
The match is set to kick off at 9:30PM EST at the Los Angeles Memorial Coliseum in Southern California. It can be seen on television on ESPN 2 and Univision. It can be live streamed here. For those who want to watch the game on their phone, simply download the WatchESPN from your mobile device.
© 2023 Latin Times. All rights reserved. Do not reproduce without permission.