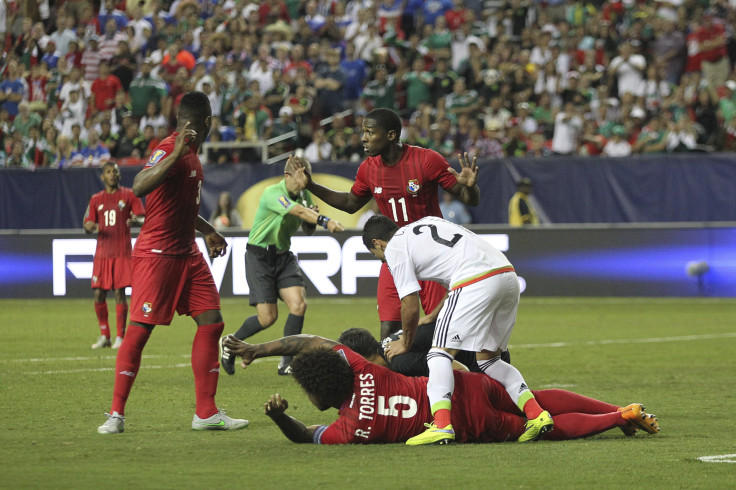 ATLANTA – Soccer can be a cruel sport.
After an early red card forced Panama to play with 10-men, they were minutes away from shocking Mexico and advancing to the Gold Cup Final. But another controversial penalty call in Mexico's favor led to two PK goals by Andres Guardado and Mexico came back to defeat Panama 2-1 on Wednesday at the Georgia Dome.
The entire game shifted in the 25th minute when striker Luis Tejada was shown a red card by referee Mark Geiger. Tejada leapt into the air on a goal kick and struck Mexican defender Francisco Rodriguez in the face with an elbow.
The rough foul could have been ruled as incidental, and just a yellow card given, but in the eyes of the American ref, Geiger, it was worthy of a red. Panama was left with 10-men against a clearly more talented Mexico team for the next 95 minutes.
To make matters worse, Panama was already playing without stars Gabriel Gómez and Blias Pérez who missed the game because of injury.
LA Galaxy goalkeeper, Jaime Penedo was superb in between the pipes for Panama. He was only tested a few times, but made two big saves, despite being unable to stop the penalty kicks.
Mexico manager, Miguel Herrera brought Carlos Esquivel and Jesus Corona into the game in the second half to provide more of a spark for El Tri on offense.
Carlos Vela, who failed to convert open shots on goal in Mexico's quarterfinal match against Costa Rica, had a great scoring opportunity off a free kick in the 53rd minute, but his shot was just a hair high as it sailed over the net.
Panama scored off a set piece in the 57th minute, despite the man disadvantage. Defender, Román Torres hammered a header into the near post past Memo Ochoa for the game's first goal.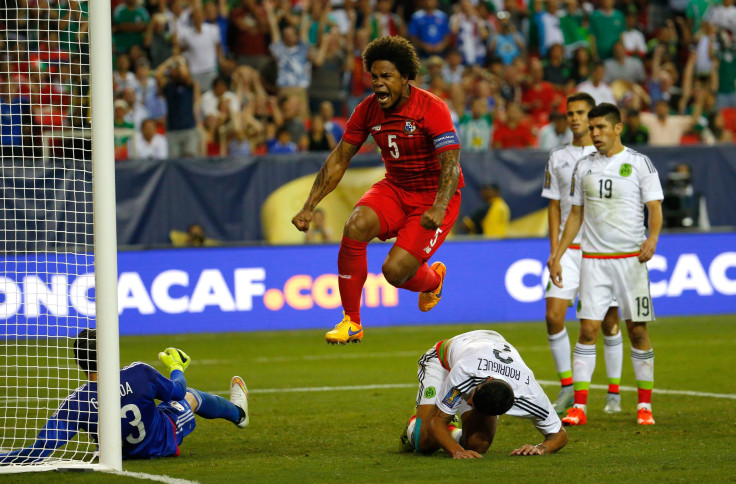 Torres was phenomenal throughout the game in the air as he not only scored with his head, but also disrupted and cleared many Mexican set piece attacks throughout the match.
Things got ugly in the 90th minute after a penalty was called on Torres in the box. Mexico was awarded a penalty kick, and all hell broke loose as fans began to throw trash, beer, sodas, and cups onto the field at the Panamanian players. The game was delayed for nearly 15 minutes as both teams refused to go back on to the pitch to resume play.
Replay showed that the foul should have been on Mexico's Esquivel, and for the second consecutive match, Mexico was gifted a late penalty.
Mexico's captain Andrés Guardado once again converted a controversial penalty in the final minutes to equalize the score. Guardado easily is the hero of the Gold Cup for Mexico as he has rescued them for the second consecutive game.
Geiger will certainly face tremendous scrutiny as the 2014 World Cup referee made multiple questionable calls and handed out eleven yellow cards and one red card during the match.
Guardado converted another penalty in the 103rd minute, this time on an actual penalty as Javier Orozco was run over in the box. Guaradado once again stepped up and knocked it in, giving Mexico the 2-1 lead.
We won't sugarcoat it, Mexico did not deserve to win this match, and certainly received some good fortune in their past two elimination games. El Tri's attacking front was awful, and the offensive third was atrocious. If they play how they did on Wednesday in the final against Jamaica, they will lose.
Mexico will take on Jamaica on Sunday for the 2015 Gold Cup Title.
Please refresh this page for more updates, stats and player reactions…
© 2023 Latin Times. All rights reserved. Do not reproduce without permission.