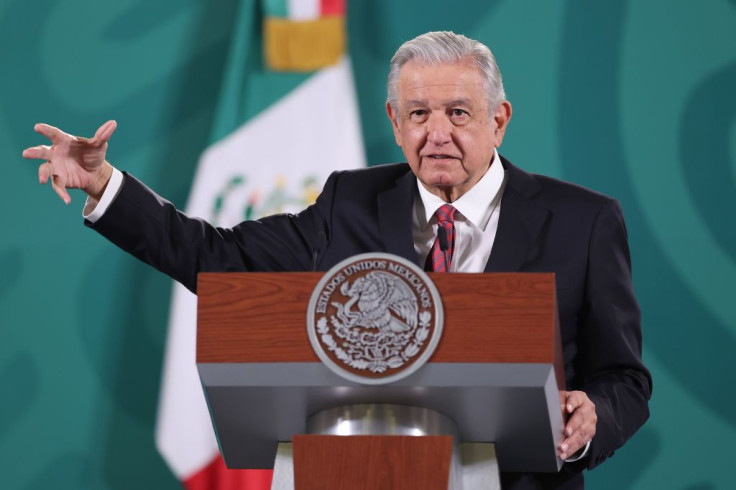 Mexico's President Andres Manuel López Obrador has slammed Texas for deploying floating barriers as a border enforcement tactic on the Rio Grande river and called the move "inhumane."
His comments come after two bodies were found in the waters that flow along the U.S.-Mexico border. "No one should be treated like this. That kind of treatment does not come from a good person; only by being good can we be happy," Obrador said at a press briefing Thursday.
The Mexican leader hit out at Texas Governor Greg Abbott, who gave a green signal for the barriers to protect the people of his state, saying, "Abbott shouldn't act like that; it's inhumane."
The Texas governor, however, remains defiant and has refused to remove the floating barriers.
Obrador said the buoys violated his country's "sovereignty and human rights," adding that "we are already demanding that these buoys be removed," CNN reported.
Last week, Mexican Secretary of Foreign Relations Alicia Bárcena Ibarra said that they had sent a second diplomatic note to the United States complaining about the floating barriers.
One body was found stuck in the lines of orange buoys put up by Texas authorities near the U.S.-Mexico border, while another one was found in the area of the buoys by the Beta Group of Piedras Negras, Mexico's Foreign Affairs Secretary and Mexico's Migration Institute said in a statement cited by ABC News.
On Wednesday afternoon, the Texas Department of Public Safety notified the Mexican Consulate in Eagle Pass, Texas, about a body being found in the southern part of the floating barriers. It is unclear what caused the deaths, but Texas officials suspect that the person found caught in the floating barrier had died upstream.
The ABC News report, citing a source, said that the deceased were men. According to the outlet, the man who was found by the buoys and believed to have been dead for some time, hailed from Mexico. The other one, who was found further away and believed to have died more recently, belonged to Honduras.
The floating barriers were installed in a bid to block migrants crossing from Mexico to Texas. They were installed in July without federal authorization, prompting the Justice Department to sue Texas.
In a letter to Abbott and the state's interim attorney general, two Justice Department lawyers wrote that the floating barriers not only violate federal law but also threaten to impede the work of federal law enforcement. They also create "serious risks" to public safety as well as the environment, CBS News reported.
© 2023 Latin Times. All rights reserved. Do not reproduce without permission.