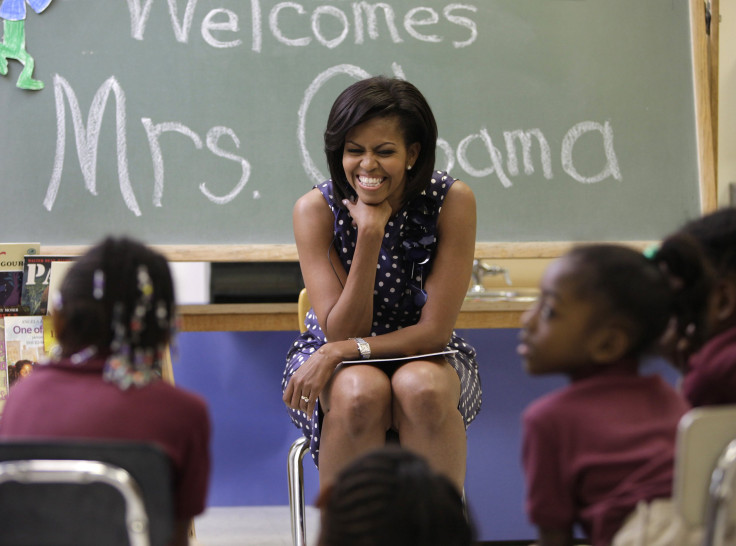 Michelle Obama celebrates her birthday today! The first lady of the United States turns 56-years-old and she makes it look so effortless. As a way to help celebrate Michelle Obama's big day, we have compiled our top four favorite quotes about love, relationships and self-help from the First Lady. So without further ado check out our list below and tell us which is your favorite quote.
1. About being a mother: "My most important title is still 'mom-in-chief.' My daughters are still the heart of my heart and the center of my world." And, "My first job, in all honesty, is going to continue to be mom-in-chief. Making sure that in this transition, which will be even more of a transition for the girls ... that they are settled and that they know they will continue to be the center of our universe."
2. About heath and taking care of yourself: "Women in particular need to keep an eye on their physical and mental health. We need to do a better job of putting ourselves higher on our own 'to do' list." And, "I have freed myself to put me on the priority list and say, yes, I can make choices that make me happy, and it will ripple and benefit my kids, my husband, and my physical health. That's hard for women to own; we're not taught to do that. It's a lesson that I want to teach my girls so they don't wait for their 'aha' moment until they're in their 30s like I was (laughs). Maybe they can experience it a little earlier."
3. About relationships and love: "Do not bring people in your life who weigh you down. And trust your instincts ... good relationships feel good. They feel right. They don't hurt. They're not painful. That's not just with somebody you want to marry, but it's with the friends that you choose. It's with the people you surround yourselves with." And, "When you're dating a man, you should always feel good. You should never feel less than. You should never doubt yourself. You shouldn't be in a relationship with somebody who doesn't make you completely happy and make you feel whole."
4. About her husband, Barack Obama: "So when people ask me whether being in the White House has changed my husband, I can honestly say that when it comes to his character, and his convictions and his heart, Barack Obama is still the same man I fell in love with all those years ago ... And I didn't think it was possible, but today, I love my husband even more than I did four years ago ... even more than I did 23 years ago when we first met. I love that he's never forgotten how he started."
© 2023 Latin Times. All rights reserved. Do not reproduce without permission.