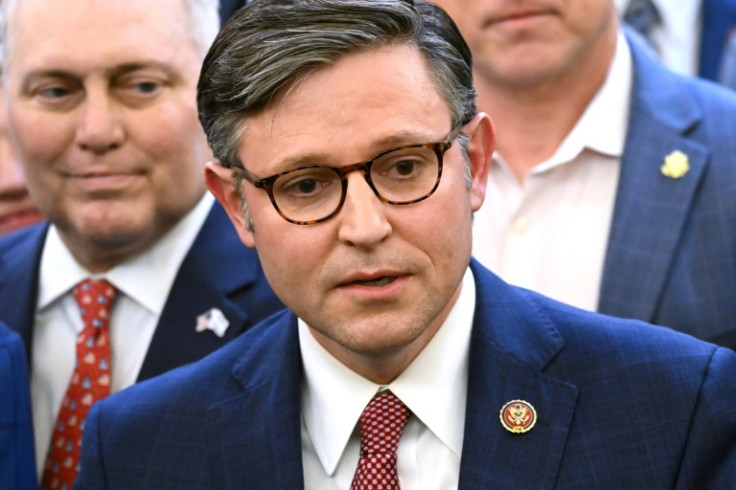 A virtual unknown beyond the shaded verandas and air-conditioned municipal halls of the Deep South, Louisiana congressman Mike Johnson is emblematic of the broader ideological and partisan divides that shape US politics.
The 51-year-old attorney's journey to Washington was paved with a deep commitment to traditional values that delights fellow conservatives but has invited accusations that he is out of step with modern America and lacks a commitment to democracy.
The staunch Donald Trump loyalist, who on Wednesday was elected speaker of the US House of Representatives, was the chief architect in Congress of legal efforts to overturn the Republican leader's 2020 election defeat to President Joe Biden.
An unapologetic opponent of reproductive rights and an outspoken advocate for tough immigration controls, Johnson climbed quickly through the ranks of Republican politics, where his conservative voting record propelled him to a junior leadership position.
"We're going to serve the people of this country. We're going to restore their faith in Congress, this institution of government. America is the last, best hope of man on the Earth," he told reporters at a news conference after his nomination, flanked by jubilant colleagues.
"Abraham Lincoln said it, Ronald Reagan used to remind us all the time, and we're here to remind you of that, again."
Born in October 1972 in Shreveport, Louisiana's third city, Johnson grew up in a tight-knit community that instilled in him the values of the American South that shaped his dedication to faith and family.
He earned his undergraduate business degree from Louisiana State University in Baton Rouge and later studied and practiced law.
His entry into the political arena was seen by friends and family as a natural progression and he was elected in 2015 to the Louisiana State Senate, where he worked on key issues such as education reform and economic development.
In 2016, he threw his hat in the ring for a seat in the US House and ran on a platform of limited government and economic growth, winning in a landslide.
One of the primary sources of Johnson criticism has been his stance on LGBT issues, as he has been a consistent opponent of federal protections for same-sex marriage.
He was one of 147 Republicans who refused to certify 2020 election results that had been upheld by courts and officials across the country, even after the US Capitol was ransacked by Trump supporters with the same aim.
And he led more than 100 Republicans in signing on to a legal brief supporting an unsuccessful lawsuit seeking to overturn the results in four swing states won by Biden.
A poor-to-middling fundraiser, Johnson's unwavering support for anti-abortion measures makes him popular among Republicans but controversial to donors, who have hardly tripped over themselves to boost his campaign coffers.
Critics also argue that Johnson's alignment with the hard-right Freedom Caucus has contributed to congressional polarization and undermined any claim he might have to promoting the bipartisan cooperation essential to a functioning democracy.
But supporters list among his strengths his eloquence and ability to effectively communicate complex policy matters.
A skilled debater known for his articulate defense of border security, free-market economic policy and limited government, Johnson has been a vocal supporter of the military.
Beyond his professional accomplishments, Johnson has cultivated an image as a devoted family man and a tireless defender of conservative values, co-chairing the Congressional Prayer Caucus and fighting for religious expression in public schools.
Far from his party's first choice for speaker, Johnson hung back as a succession of fellow Republicans tried and failed to unite the right.
But he was persuaded to enter the race as he emerged as a rare figure that none of his colleagues opposed.
"Until yesterday, I had never contacted one person about this," he said in a letter to colleagues over the weekend, "and I have never before aspired to the office."
© 2023 Latin Times. All rights reserved. Do not reproduce without permission.