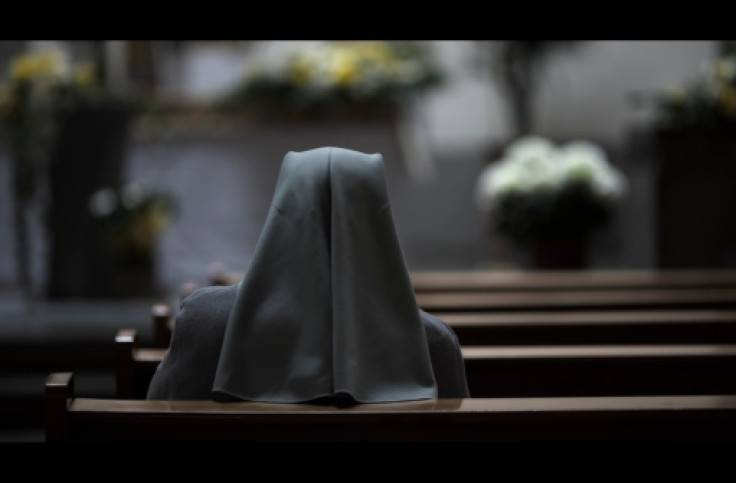 Sister Wilhelmina Lancaster, a nun who died in 2019, has become the center of attention as her exhumed body exhibited minimal decomposition after four years.
This alleged "miracle" has attracted thousands of Catholics from across the nation who are eager to witness it at the rural Missouri monastery where Sister Wilhelmina resided.
With her body and clothing remarkably preserved, Sister Wilhelmina's body has become a point of fascination for visitors who travel to the chapel of the Benedictines of Mary, Queen of Apostles in Gower, a small town located 40 miles north of Kansas City.
The anticipation was high, with an estimated 10,000 to 15,000 worshippers projected to visit the monastery's chapel daily throughout the Memorial Day weekend, as shared by Clinton County Sheriff Larry Fish in a video on Facebook.
The body of the nun was covered with a preservative wax and presented within the chapel, where visitors had the opportunity to touch her face and offer prayers.
Initially, her remains were exhumed with the intention of being relocated to a new shrine. However, on Monday, they will be positioned in a glass enclosure.
Local authorities anticipate that people will continue to embark on pilgrimages to the site, including individuals traveling from distant places like Canada and Mexico, for several months to come.
Fish said the rural area's gravel roads weren't designed to serve that level of traffic, New York Post reported.
"We are going to put a very large pressure on our infrastructure that is not designed for it," he said.
According to FOX4 Kansas City, more ground was prepared for more parking places close to the monastery and local police established a mobile command center to handle the magnitude of the crowds in the town of only 1,8000 residents.
"It was pretty amazing," he said. "It was very peaceful. Just very reverent."
Last week, when the Benedictine sisters interred their founder, they anticipated finding bones in her casket. Instead, they were astounded to find her corpse completely undamaged and "a perfectly preserved religious habit."
The nuns had planned to keep their finding a secret, but an internal email about it was published online, which caused the news to quickly spread and grab attention.
Many Catholics think Lancaster's preservation is a miracle and that she could be a living saint.
"It just felt like the presence of God was there as soon as I went into the monastery. It's a true miracle. I really think that" Rita Cospelich, a visitor from Blue Springs, Missouri, told FOX4. "God works in strange ways with miracles."
The Diocese of Kansas City-St. Joseph has approached the reported science-denying matter with caution.
"The condition of the remains of Sister Wilhelmina Lancaster has understandably generated widespread interest and raised important questions," the diocese said. "At the same time, it is important to protect the integrity of the mortal remains of Sister Wilhelmina to allow for a thorough investigation."
"Incorruptibility has been verified in the past, but it is very rare. There is a well-established process to pursue the cause for sainthood, but that has not been initiated in this case yet," the diocese added.
According to the Benedictines of Mary, Queen of Apostles, the process to investigate sainthood can only commence five years after a person's death, and Sister Wilhelmina Lancaster has been deceased for only four years. Additionally, scientists' express skepticism regarding the alleged miracle.
"Typically, when we bury people, we don't exhume them. We don't get to look at them a couple years out," George said. "With 100 years, there might be nothing left. But when you've got just a few years out, this is not unexpected."
Rebecca George, an anthropology instructor at Western Carolina University, explains that the rate of decay in human remains varies due to various factors. It is not uncommon for bodies to show little to no decomposition even after several years.
© 2023 Latin Times. All rights reserved. Do not reproduce without permission.