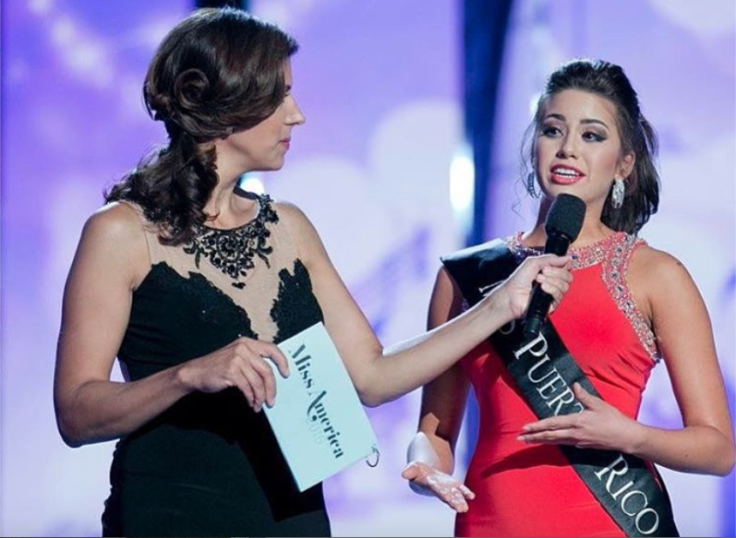 Looks like Miss Puerto Rico winner Destiny Vélez's comments against Muslims have caught up with her as she has been indefinitely suspended from her role by the island's official Miss America organization. Just last Thursday, Veléz engaged on a Twitter dialogue attacking Muslims and documentary filmmaker Michael Moore after he shared a photo of him standing outside the Trump Tower holding a sign that read "We are all Muslim." The 20-year-old beauty queen who has a very strong opinion about the religious group and published comments on social media like, "All what Muslims have done is provided oil and terrorize this country and many others."
This triggered the "indefinite suspension" which was announced through a statement on the Organization's official Facebook page. "The Miss Puerto Rico Organization feels that her words do not represent the integrity and esteem of our program, nor that of our board members, our sponsors and partners, or the National Organization," the statement said about Vélez. Many Twitter users were also outraged by her comments and began calling her a bully, as well as using hashtags such as #nonosrepresentas (you do not represent us) and #verguenzaajena (embarrassment).
Later, an apology issued by Vélez was published by the Organization which read: "I apologize to the people I have offended with my words. I am first and foremost an #UpStander and as such I stand up against bullying. The last thing I wanted to do was to bully anyone. Again, I apologize to anyone who felt offended with my words."
The Miss America Organization also chimed in: "The MAO does not agree with and does not in any way condone or support the recent statements of Miss Puerto Rico."
© 2023 Latin Times. All rights reserved. Do not reproduce without permission.