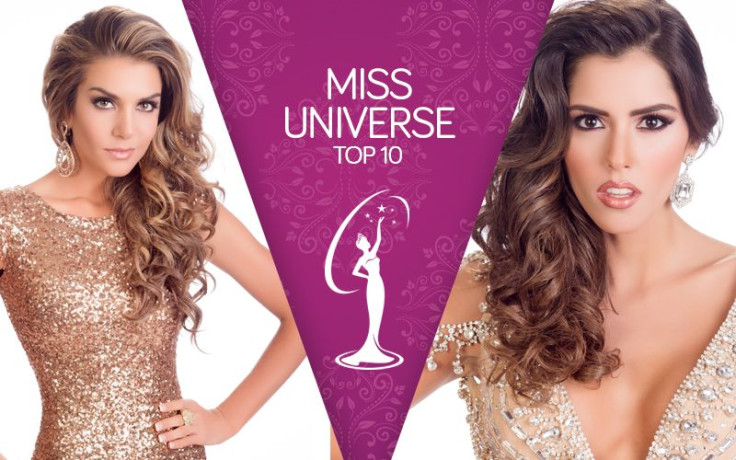 Miami is on fire as the competition stiffens at the Miss Universe pageant with the Top 10 revealed. From the initial 15 the following girls made the next cut: Jamaica (Kaci Fennell), Colombia (Paulina Vega), Ukraine (Diana Harkusha), Argentina (Valentina Ferrer), Philippines (Mary Jean Lastimosa), Spain (Desirée Cordero), Netherlands (Yasmin Verheijen), Venezuela (Migbelis Castellanos), Australia (Tegan Martin) and USA (Nia Sanchez). With this cut, Italy, India, France, Indonesia, Philippines get shut out of the running, including our Latina from Brazil. It is still a high probability that a Latina women will take home the crown. Which one of the finalists is your favorite to win? UPDATE: Top 5 Revealed; 2 Latinas Left!
The countdown to find out who Miss Universe 2014 is on and we can't wait to watch. Gabriela Isler will hand over her crown to a new beauty queen on Sunday night during the live competition in Miami. The pageant will take place at the Florida International University in Doral-Miami where the world is going to presence the crowning of a new queen. The event will be broadcasted on NBC in English and Telemundo in Spanish. For the English-language telecast "Today's" Natalie Morales will host along Thomas Roberts and Jeannie Mai. For Telemundo, Rashel Diaz and Raúl González will be adding their Latin flavor to the cast. Confirmed to perform are Prince Royce and Nick Jonas, who will sing some of their hits as the ladies model on stage.
The winner of the beauty pageant are being selected by a panel of judges from different backgrounds like actors, musicians, sports stars and fashion gurus. One of the judges will be one of the sexiest Latin men alive, William Levy. The hunky telenovela actor knows what beauty is and has always attracted beautiful woman, which we are sure will help him in casting his vote. Other judges rounding out the panel are music producer Emilio Estefan, footballer Desean Jackson, baseball player Giancarlos Cruz-Michael Stanton and boxer superstar Manny Pacquiao. The Colombian fashion-journalist Nina Garcia, will also be in the panel and will be joined by "The Hills" star Kristin Cavallari, fashion guru Louise Roe and "Real Housewives Of Beverly Hills" star Lisa Vanderpump.
© 2023 Latin Times. All rights reserved. Do not reproduce without permission.