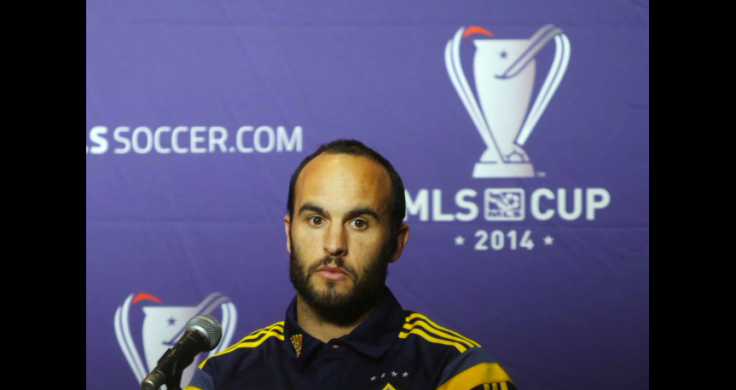 CARSON – When Landon Donovan announced his retirement at the end of the MLS season all of us in the media shared a collective gasp. How could the greatest United States Men's Soccer player leave the game he loves at only 32 years old? There's more that Donovan wants to do outside the game he says, like travel, play golf, go to College and spend time with his niece.
So for months the farewell tour took flight. It included a final stint with Jurgen Klinsmann and the USMNT. Farewell stops at all road stadiums, a final regular season farewell in which he received a musical tribute from Five for Fighting and Boyz II Men, and a priceless piece of Donovan artwork. But on the eve of Donovan's final ever game on the pitch, the Galaxy forward reluctantly admitted that he wasn't ready to walk away.
"Candidly, I don't want it to end," he told the media in the pre-match press conference for the MLS Cup Final which takes place on Sunday at 3:00PM EST at StubHub Center.
Donovan has been playing soccer his entire life. He was a member of the USMT U-17, U-20, and U-23 teams. He was a soccer wunderkind, a prodigy on the pitch. Before the millennial he was playing professionally in the Bundesliga and in the MLS by 2001. Over the course of thirteen years he has been to three World Cups, won five MLS Cups (potentially six), and has broken plenty of individual records along the way.
As the final game of Donovan's career is on the horizon, we are ready to watch our soccer hero ride off into the California sunset. He will attempt to give us one last awe-inspiring moment as he looks to conclude his career as champion on Sunday. But we in the media can't help but wonder if Donovan has left the door open for a return to the sport he loves one day.
"I'll never say never," he said with a smile to the media on the prospect of pulling a Brett Favre like un-retirement comeback next season. "But I feel like once I'm gone that's going to be it for me. I'll still get my fill of soccer. I'll play pickup games or play indoor or just hang out and go kick a ball around. Those moments where I get excited and think, 'Oh, I can play again,' I'll be aware enough to say, 'OK, let's remember all the bad moments where you were thinking, 'Gosh, I can't wait to retire.' So I'm aware of all that. I understand it. You never know, but at this time I would say it's unlikely.
However unlikely, Donovan is just the player to do it. After a four month long sabbatical from December 2012 to April 2013, Donovan came back to the sport better than ever. He's battled fatigue, depression, and openly admits there's a lot of wear on the tires over the past two decades of playing soccer. He may feel hesitant or embarrassed about coming out of retirement this time, but we know the country will embrace him with open arms should he choose to return to the pitch.
© 2023 Latin Times. All rights reserved. Do not reproduce without permission.