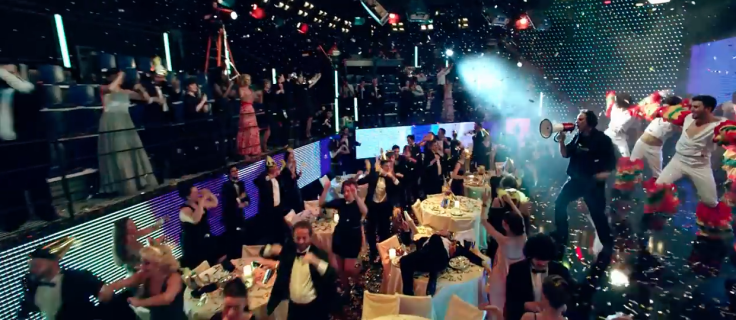 Breaking Glass Pictures will release Álex de la Iglesia's ("Witching & Bitching," "The Last Circus") dark musical comedy "My Big Night" ("Mi Gran Noche") in theaters and VOD on Friday, April 15, 2016. In this "dazzling" (Hollywood Reporter) and "zany comedy" (Screen Daily), the backstage preparations for a New Year's Eve TV spectacular become a flashpoint for comic mayhem. "My Big Night" is a frenetic brew of Fellini, Altman and Almodóvar, building steadily toward a finale that's a grand collapse into utter chaos.
MY BIG NIGHT stars Spanish icon Raphael, Mario Casas ("Witching & Bitching," "The Boat"), Blanca Suarez ("The Skin I Live In," "I'm So Excited"), Hugo Silva ("Witching & Bitching"), among other talented Spanish actors. "My Big Night" premiered at Toronto International Film Festival in 2015 and went on to play San Sebastian International Film Festival and Opening Night at Miami International Film Festival. The title of the film is a reference to one of Raphael's most famous songs; the 1967 hit "Mi Gran Noche." The film was nominated for four Goya Awards.
It's only October, but the network's annual black-tie New Year's Eve spectacular has already been in production for a grueling week and a half. A falling crane has taken out an extra and the show's hosts are at each other's throats. A semen thieve deceives oversexed pop sensation Adán (Mario Casas) while legendary superstar Alphonso (Raphael) learns he is being stalked by an armed and unstable songwriter. Meanwhile, just outside the studio, the police arrive, as protesters demand the arrest of the shows corrupt producer (Santiago Segura).
"Releasing "My Big Night" and adding another modern auteur to the Breaking Glass family is a dream come true. In a world of dark independent features, Alex's films have always done a masterful job of bringing satire and comedy to audiences - we hope this one will keep audiences smiling," says Rich Wolff, CEO Breaking Glass Pictures.
The movie will be playing in the following cities: New York City, Los Angeles, Miami, Chicago, Philadelphia, Dallas, Houston, San Francisco, Seattle, Cleveland, Washington D.C., and more to be announced.
About the Director: Álex de la Iglesia was born in Bilbao, Spain. Pedro Almodóvar, who produced his first feature film Mutant Action, discovered his talents in 1993. For his second feature, The Day of the Beast (1995), he won Spain's highest cinematographic honor, the Goya Award for Best Director. His films have been widely distributed throughout the world, and three of his features have been Official Selections of Miami International Film Festival – Perfect Crime (2005), The Last Circus (2011) and Witching & Bitching (2014). Other feature films include The Oxford Murders (2008) and As Luck Would Have It (2013).
© 2023 Latin Times. All rights reserved. Do not reproduce without permission.