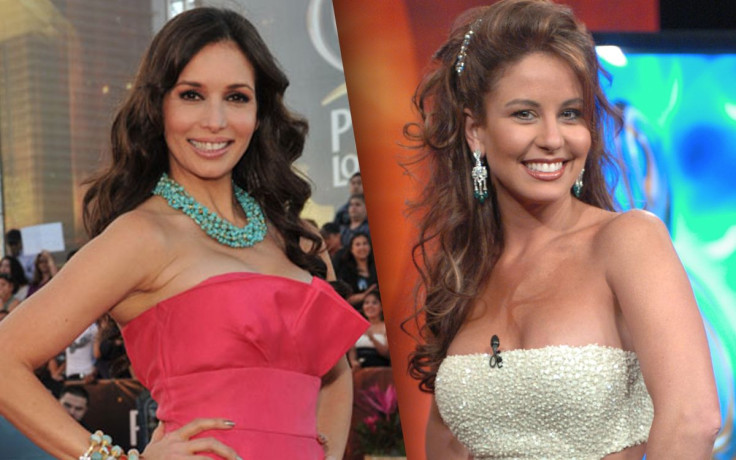 Univision made a huge announcement that will take us back to the beginning of Premio Lo Nuestro as the 2018 edition celebrates its 30th anniversary. Myrka Dellanos and Giselle Blondet will make their triumphant return as hots of the magenta carpet to interview the celebrities as they make their way to the venue. Dellanos had hosted the arrivals since the first red carpet in 1999 up until 2005, with Blondet taking over her duties starting in 2006 until 2013. Also greeting the stars will be Raúl de Molina and Tony Dandrades, ​Chiquinquirá Delgado, Javier Poza, Daniela Di Giacomo and Borja Voces.
The Spanish-language network also announced the that this year there will be three hosts for the main event: Laura Pausini, Lili Estefan and Alejandra Espinoza. Pausini has been a recipient of PLN on three occassions and won the Premio a la Trayectoria Musical in 2015 for her career accomplishments.
Gloria Estefan and Emilio Estefan will be honored with a tribute at this year's Premio Lo Nuestro 2018. The Univision award show is celebrating its 30th edition and it will celebrate legends in the music industry and in a change of format will not have nominees. On the PLN stage, global music has debuted, first-time collaborations have been unveiled, Latin music has been recognized and honored, and generations of listeners have been united around the world.
Power couple Emilio and Gloria Estefan will bring the crowd to their feet in recognition of their contributions. Surprise guests will pay living tribute to their songs that traveled the world and opened doors for generations to follow. #PLN30 will celebrate these stars who together have collected 12 PLN awards, including PLN's Excellence Award each for their career achievements inside and outside the music industry, their global influence on culture and fusion of Latin music, among many other contributions to the Latino community.
Reunited for the first time on TV, legendary urban music stars Wisin & Yandel will perform on the #PLN30 stage, where they have received over a dozen PLN awards. This amazing reunion will be an unforgettable performance of hits and new songs alike which will kick-off their upcoming world tour.
#PLN30's stage will also welcome world-renowned artist, chart-topper and eight-time PLN award-winner J Balvin, marking the TV debut of his latest hit "Machika." J Balvin will perform with Brazilian singing and social media sensation Anitta, and Aruban producer, singer and songwriter Jeon, both taking the PLN stage for the first time, fusing their musical sounds with an energetic performance.
The list of big names for the celebration continues with the return of renowned singer Alejandro Fernández premiering a new song; all-time popular pop/ballad global superstar Ricardo Montaner, who appeared in PLN's first broadcast and will perform some of his biggest hits; banda music favorite Banda MS, will bring their mega streaming hit to TV for the first time; and Intocable will perform an all-time fan favorite.
Plus, hailing from Colombia, Piso 21 will give new life to a classic Latin hit and bring their smashing viral hit to life; and Silvestre Dangond will continue making memorable moments at PLN with a performance of his new hit single as well as a tribute to the first song ever awarded at PLN.
The power of Latina women will be present in another #PLN30 first as powerhouse singers Natalia Jimenez, Natti Natasha and Victoria 'La Mala', along with Olga Tañón, come together across generations, nationalities and music genres in a striking musical performance celebrating the power and beauty of diverse women, as well as Tañón's distinguished musical career, which includes 30 PLN awards.
The star-studded gala will open with a performance produced by 18-time GRAMMY® and Latin GRAMMY® award-winning producer Sergio George. George, who has worked with music icons such as Celia Cruz, La India, Marc Anthony, Prince Royce, and Jesse & Joy, will bring together several artists to the stage for an epic musical experience blending diverse sounds, styles and rhythm that will represent generations, genres and cultures in one musical explosion.
Maluma , Ozuna, Bad Bunny, Romeo Santos, Olga Tañon and Victoria 'La Mala' were previously announced to bring their music to the celebration.
Premio Lo Nuestro 2018 will air on Thursday, February 22 at 7pm ET/PT.
© 2023 Latin Times. All rights reserved. Do not reproduce without permission.