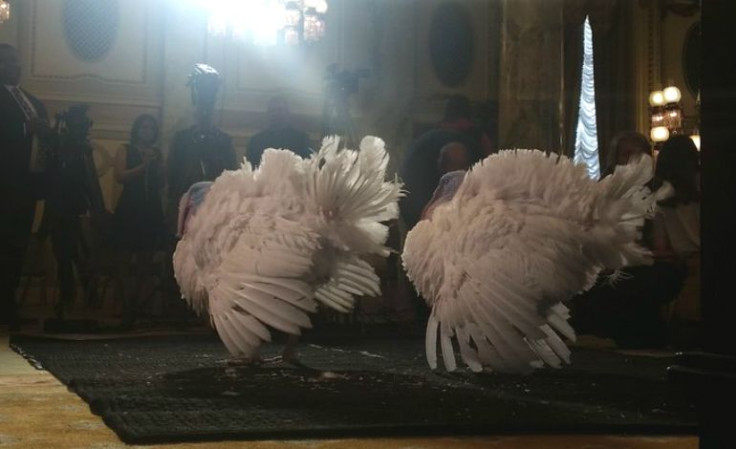 President Obama is celebrating the 68th anniversary of the National Thanksgiving Turkey presentation today at 2:30 p.m and the White House even allowed people to vote on which bird wins the honor. According to their website "just before the holiday, the President graces that turkey with the right to live out the rest of its days peacefully on a farm." The names for this year's turkeys were submitted by California school children; scroll down to meet Honest and Abe, and vote for your favorite on Twitter.
Here are some facts about the "Presidential Turkey Pardon."
1. The presidential turkey pardon has become a Thanksgiving tradition. Since 1947, the chairman of the National Turkey Federation has presented a turkey to the President for national, official pardon.
2. President Harry S. Truman began this amusing holiday tradition. However, the Truman Library & Museum disputes the notion that Truman was the first president to pardon the holiday bird. According to NPR, "the Library's staff has found no documents, speeches, newspaper clippings, photographs, or other contemporary records in our holdings which refer to Truman pardoning a turkey that he received as a gift in 1947, or at any other time during his Presidency. ... Truman sometimes indicated to reporters that the turkeys he received were destined for the family dinner table."
3. From 1873 to 1913, a westerly farmer from Rhode Island named Horace Vose, known as the "Poultry King," became the unofficial turkey provider to the White House for Thanksgiving and Christmas, according to the White House Historical Society.
4. The White House website states that by 1914, the opportunity to give a president a turkey was open to all comers, and poultry gifts were frequently touched with patriotism, partisanship, and glee.
5. According to Infoplease, "a notable exception occurred in 1963, when President Kennedy, referring to the turkey given to him, said, 'Let's just keep him.' It wasn't until the first Thanksgiving of President George H.W. Bush, in 1989, that a turkey was officially pardoned for the first time."
The White House has set up a live stream of the event. Watch live below:
© 2023 Latin Times. All rights reserved. Do not reproduce without permission.