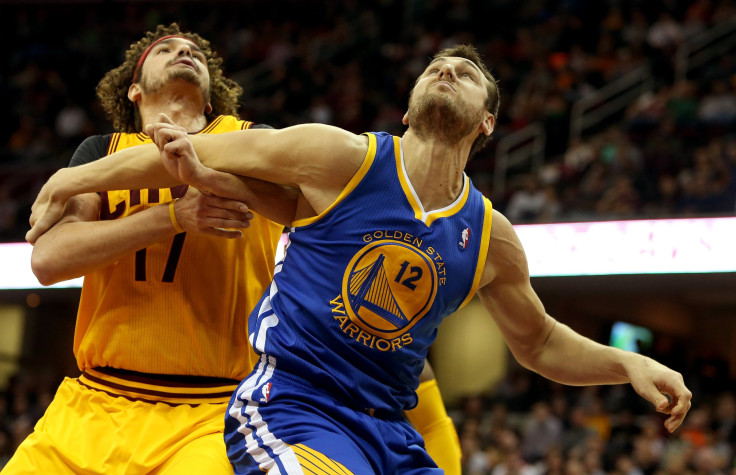 You won't see very many immigrants playing in Thursday's NBA final between the The Bay's Golden State Warriors and Cleveland's Cavaliers, but it's not like they haven't tried. Cavs Brazilian star center / power forward Anderson Varejão is out with a torn left achilles, and it's unlikely that he'll be back in time for the final. Sure, there are plenty of Hispanic players in the NBA, but there are only 7 immigrants that have ever played for either of the two teams facing off tomorrow. None of them will be on the court.
BRAZIL -- Anderson Varejão
Cavaliers, 2004-Present: Born in Brazil, Varejão grew up in São João de Petrópolis, Espiritu Santo and started his career in the city of São Paulo. Though he was drafted by the Orlando Magic, Varejão was quickly traded and became a career Cavalier. By 2010, he was the Cav's starting center and a key member of the team. Due to numerous injuries, he's sat out about half of the games in the last 5 seasons. Fun fact: thousands of Cavs fans once wore wigs with Varejão-like locks (he's got these curly ringlets typical of mixed-race Brazilians) in a 2006 game.
PUERTO RICO -- Butch Lee
Cavaliers, 1979-1980: Okay Lee wasn't an international immigrant and he only played three games with the Cavs. But Butch Lee is a super interesting guy. Born in San Juan, Puerto Rico, his family moved to Harlem when he was a kid. He's the first Puerto Rican on make it into the NBA, and after his stint with the Cavs he played with Magic Johnson and Kareem Abdul-Jabbar during the first Laker's Golden Age
ARGENTINA -- Juan "Pepe" Sánchez
Golden State Warriors, 2003-2004: Like many immigrant NBA players, Pepe got his start at a U.S. University and would spotlight for his nation's Olympic team. Pepe's was Temple State, where he says he played the best ball of his life, along with his games serving the Argentine national team.
DOMINICAN REPUBLIC -- Luis Alberto Flores
Golden State Warriors, 2004-2005: Born right up-current from Butch Lee in the D.R., Flores grew up just down the block, in Washington Heights. After being transferred around a few NBA teams and cut from the roster of the New Orleans Hornets, he left for Europe, playing for teams in Italy, Russia and Spain.
MEXICO -- Eduardo Najera
Golden State Warriors, 2004-2005: Picked up along with Flores, Najera didn't last long with the GSW either. His best years were with the Nuggets, and he went on to coach D-Level professional ball in 2012. He's also a philanthropist, administering his eponymous Eduardo Nájera Foundation for Latino Achievement.
PANAMA -- Rubén Garcés
Golden State Warriors, 2000-2001: Born in Colón, Panama, Garcés only lasted one year in the NBA before leaving the U.S. He also played in pro Latin American and European leagues.
VENEZUELA -- Óscar Torres
Golden State Warriors, 2002-2003: Torres spent two years in the NBA before moving back to his native Venezuela. Fun fact: he played his best pro game against the Cleveland Cavaliers, scoring 28 points.
© 2023 Latin Times. All rights reserved. Do not reproduce without permission.