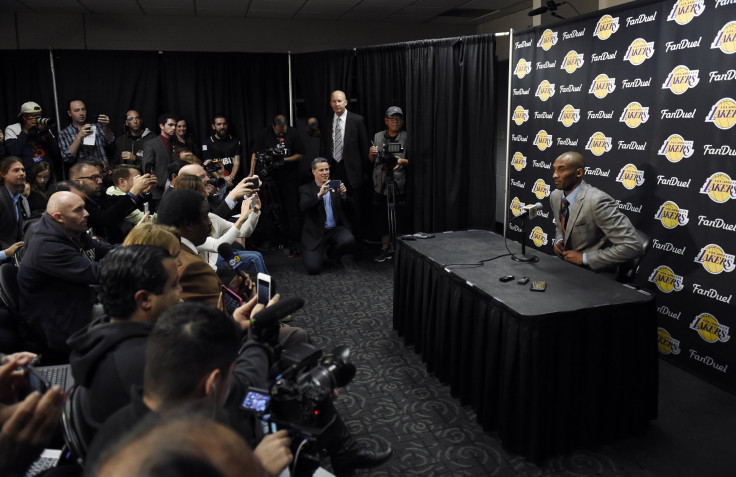 The ripple effect felt throughout the NBA when Kobe Bryant announced he was retiring on Sunday afternoon was breathtaking. The immediate reaction by fans crashed The Player's Tribune website, but the outpouring of support and memories from NBA players both past and present was even more endearing.
Bryant was remembered by former teammates, past and present players as well as NBA legends like Michael Jordan and Magic Johnson shortly after the announcement was official in Bryant's self-written letter to the game he loves entitled, "Dear Basketball."
Most current players called Bryant, their favorite player and shared stories of how they grew up watching and emulating him. Former players called Bryant, the Michael Jordan of this era, whereas teammates simply said they are sad and want to soak every bit of knowledge they can from Bryant like a sponge before he hangs up his jumpshot.
Celebrities like Justin Timberlake, Gigi Hadid and George Lopez also weighed in on how they felt about the Black Mamba. Bryant will still try and play in the team's final 66 games of the season, and hopefully will receive a standing ovation in each and every one of them.
Here's our list of players reactions as they weighed in on the 20-year career of Kobe Bryant:
Wayne Ellington: "It meant a lot to play alongside him. He's a guy that inspired me, honestly. As a young kid, I used to be out there on the court trying to be Kobe. He's the best player in our generation."
Pau Gasol: "We have lived incredible moments together on and off the court. Thanks for everything brother!"
Paul George: "I told him I was going to cherish this moment. What a feeling to play against your idol.
Magic Johnson: "He's the closest thing we've seen to Michael Jordan. He'll probably go down as the second-greatest scoring guard. You couldn't stop him. His will to win was incredible and he stayed in the gym like no other."
Wilson Chandler: "Bean has always been my favorite player since I was a kid. One of the best to ever do it!"
Kristaps Porzingis: "Kobe's a legend. It's sad. He's had an amazing career. He's played in this league more than half of his life. The things that he did – he's one of the best players ever to play the game."
C.J. McCollum: "I've been watching you since I was a kid. I appreciate your game. Coming back from all those injuries it takes a special kind of person to mental refocus and play at that high a level."
Jamal Crawford: "To me, he's the best player I've ever played against. He's the Michael Jordon of his era. The game won't be the same once Kobe is gone…"
Dwight Howard: "Oh, man. Kobe is one of the greatest to ever play the game. He had an amazing career… it all comes to an end for all of us. He was somebody we all grew up watching. Seeing him go from the Afro to changing to another number to all that stuff…81 points, he just had a very good career."
James Harden: "He's a legend. I grew up watching him. He was my 'MJ.' Just for him to be done, for his last go-round, it's sad. That's the end of a dynasty. He had a really good run, but it comes to an end. He's a monster. He's a beast."
Rick Fox: "I'm sad. You loved the game and the game loved you back. I'm proud to know you and honored to have represented the Purple and Gold together!"
Phil Jackson: "Break the season up into sections. Take it one chunk at a time and try and get through it." – via Kobe Bryant.
Michael Jordan: "Just enjoy it. No matter what. Just enjoy it. Don't let anybody take that away from you no matter what happens good or bad, just enjoy it, man!" – via Kobe Bryant.
J.R. Smith: "One of the most under appreciated players to ever play is saying goodbye to the game he gave his all! Goes without saying 1 of the GREATEST TO EVER DO IT! Thank you Kobe."
NBA Commissioner Adam Silver: "Kobe Bryant is one of the greatest players in the history of our game. Whether competing in the Finals or hoisting jump shots after midnight in an empty gym, Kobe has an emotional love for the game. I join Kobe's millions of fans around the world in congratulating him on an outstanding NBA career and think him for so many thrilling memories."
Ron Artest (AKA Metta World Peace): "I'm so happy I got a chance to witness this."
D'Angelo Russell: "I'm sad. He's my idol."
Scottie Pippen: "Hard to believe Kobe Bryant is finally going to hang it up. One of the NBA's great champions. Enjoy the rest of the season my friend."
Shane Battier: "Kobe is the greatest competitor I have ever faced. I am glad he's found peace, I don't know if we'll see another like him. Enjoy the last 66."
Jordan Clarkson: "I'm going to soak up as much from him as I can. Stay around him. Wath him. Just try to take whatever he has to give.
© 2023 Latin Times. All rights reserved. Do not reproduce without permission.