Dennis Schroder is a name that Los Angeles Lakers fans are bound to hate right now, especially after his comments when he suited up for the purple and gold.
A lot has changed since then and the 28-year-old has since moved on. He is now with the Boston Celtics and it appears the German guard has moved on from the issue.
Mellowed, Schroder instead shared to reporters on Tuesday how he was honored to play alongside LeBron James and Anthony Davis before the Lakers-Celtics showdown. However, he pointed out that he was just not a good fit for the franchise's needs, Masslive reported.
"It was an honor to play with them and see every single day how they work and how they do things on the court, off the court, it's just a blessing. It's the reason I'm grateful that I've seen it but for me, personally, it wasn't the right fit," Schroder stated.
It was an unforgettable stint for Schroder in Los Angeles who admitted he simply failed to live up to expectations when he shared the floor with James and Davis.
Further, rumors cropped up that he feuded with former Laker and now with the Washington Wizards, Kyle Kuzma throughout the 2020-21 season per league sources. That alleged rift reached a tipping point when the Lakers faces the Phoenix Suns in the first round of the last NBA playoffs, NBA Insider Jordan Schultz claims.
In all, Schroder had a controversial stint with the Lakers – especially because of his comments. It all stemmed from a contract extension and his alleged demand for big money. But based on his performance and inability to help the Lakers last NBA season, Schroder will just have to work harder before he can get that dream deal.
For now, he will have to settle for a short-term lease with the Celtics. He has produced big numbers for Celtics coach Ime Udoka and it will be interesting if these will be enough to land a huge contract in the offseason.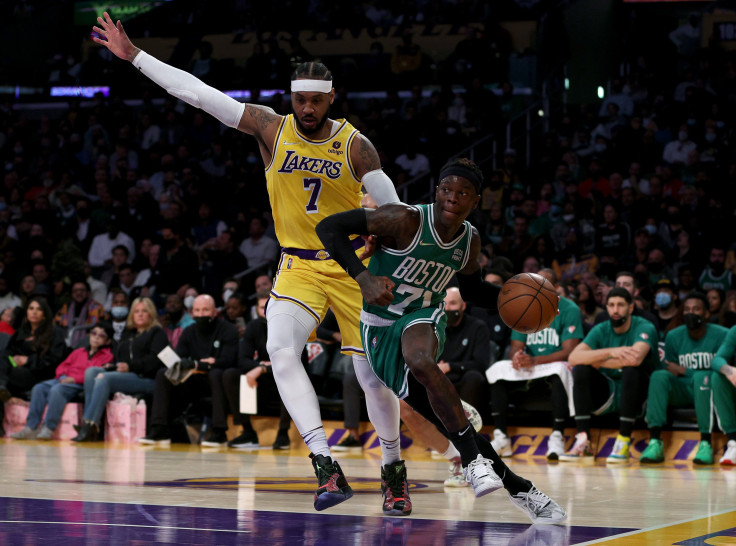 © 2023 Latin Times. All rights reserved. Do not reproduce without permission.