Two muggers attacked and stole $17,000 from a 66-year-old man on Queens Street in New York.
The horrifying footage from the New York Police Department shows the senior victim being brutally mugged by lawless perpetrators who took advantage of his defenselessness.
According to the NY Daily News, police hoped that the terrible offenders would be apprehended so that they might be stopped.
The older man was reportedly strolling along 71st St. toward Juniper Valley Road in Middle Village on Thursday early in the afternoon when the brutal mugging event occurred.
The two robbers were visible when they ambushed and overwhelmed their defenseless victim from behind.
According to the NY Post, the offender hit the older man during the one-sided argument and knocked him to the ground.
The old victim would then be rolled onto his back by one of the scumbags who would then reach down. The terrifying footage shows the attacker attempting to seize the bag as the victim was still resisting.
While the victim was anxiously trying to hold his bag to his chest during the daytime New York mugging, the suspect moved forward and slapped him.
Soon after, the assailant incited his victim to scream out for assistance desperately. The robber would then drag the 66-year-old victim to get the bag containing $17,000.
The savage foot slam on the defenseless old man's head seen in the video was caused by the person trying to grab the bag.
The jerk would pull the victim nearly ten feet along the pavement before beating him mercilessly until he gave up.
According to the authorities investigating the case, the narrative closes with the victorious thief sprinting down the street, where he boards a maroon Ford Fusion. The getaway vehicle traveled to Eliot Avenue, Fox5 wrote, citing the police.
The NYPD was able to track the burglars from the Artis Drug and Surgical Supplies business on Eliot Avenue, about a mile away from the crime scene, using footage from cameras in the area and neighboring blocks.
The two offenders were recognized in the recovered CCTV footage as being whitish, perhaps Hispanic or black, with a medium build and short dark hair.
The thief also had a dark-colored hooded jacket on when the daytime heist was completed. He also wore red, white, and blue Tommy Hilfiger trousers, trainers, and, to finish, a North Face baseball cap and glasses to disguise his face.
The companion's attire was a dark hooded jacket, matching trousers, grey rubber shoes, and a baseball cap representing the Houston Astros.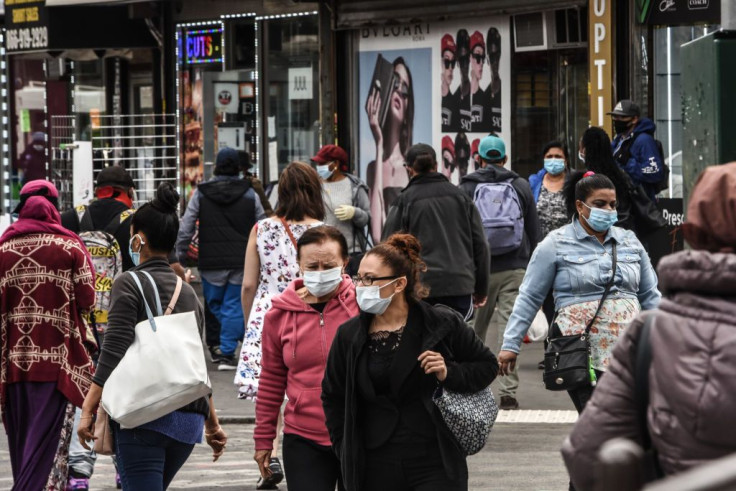 © 2023 Latin Times. All rights reserved. Do not reproduce without permission.