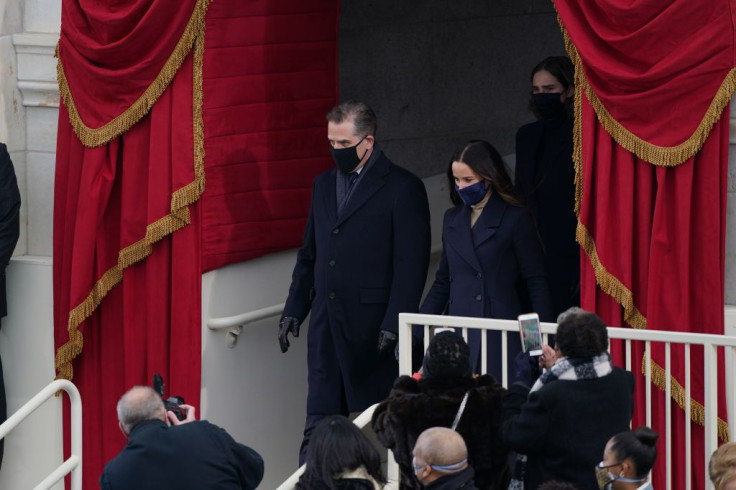 Surveillance footage from Jan. 6, 2021 has been released showing two Capitol Police officers escorting Jacob Chansley, often referred to as QAnon Shaman, to the floor of the US Senate.
The video that was aired on Tucker Carlson's Fox News show Monday showed the officers closely following Chansley, who has come to symbolize the riot. He was shown wandering the corridors of the Capitol, bare-chested and wearing face paint. He was also wearing a fur hat with Viking horns.
Carlson was granted exclusive access by House Speaker Kevin McCarthy to 40,000 hours of surveillance footage from Jan. 6, 2021, inside and around the Capitol.
Carlson said that the tapes showed the Capitol Police never stopped Chansley and that they "helped him. They acted as his tour guides."
At one point, the cops were seen walking Chansley past seven other officers roaming around outside the Senate chamber. They barely gave him a second look.
Then the cops escorted him to various entrances of the chamber that appeared to be locked. Eventually, the police officers helped him open a door, and Chansley, a 33-year-old Navy veteran from Arizona, entered the chamber.
He has been jailed for almost four years for "obstructing an official proceeding," according to New York Post.
In a jailhouse interview that was played by Carlson, he said that the one very serious regret that he had was believing that "when we were waved in by police officers, that it was acceptable."
The Capitol Police suggested in a statement that one of the cops with Chansley was trying to "de-escalate" the situation because he was outnumbered.
But that did not explain why unarmed Chansley was able to walk past seven more cops without being checked.
He "understood" that the cops were his "allies."
Carlson said that still, in the narrative that was formed on Jan. 6, 2021 by Democrats, Chansley became the face of the riot, a "dangerous conspiracy theorist dressed in an outlandish costume who led the violent insurrection to overthrow America's democracy."
According to USA Today, U.S. Capitol Police Chief Thomas Manger blasted Carlson on Tuesday for showing "cherry-picked" video from calmer moments of the riot. He was slammed for not showing the "chaos and violence" that erupted that day.
© 2023 Latin Times. All rights reserved. Do not reproduce without permission.